The team behind a community art project celebrating black British history has remained defiant after it was defaced with racist language, adding that ignorance was "on the way out".
The multi-layered piece, named Black British History is British History, was defaced after it was unveiled on May 13 next to the Soho Loop Canal in Winson Green, Birmingham.
Sculptor Luke Perry, who along with Canaan Brown designed the finished piece, said it has multiple aspects to represent "the wealth" of black British history, dating back from the Roman era, through the Victorian era and into the modern day.
It also includes references to black sailors, soldiers and nurses, and has since been restored after the graffiti was removed by hand with sandpaper in just a few minutes.
She said: "It's a public art piece to present a message, which is an untold history but a history that we now need to start recognising and embracing.
"You can say it's a disappointment but this public art piece was created to start that conversation, which is controversial.
"We are talking about an untold history and it's a big, bold statement where we are saying black history is British history.
"This really just represents a small-minded percentage of the population that we have here because the turnout that we had here was absolutely massive, so this is appreciated and wanted in the community, and in fact in the West Midlands, possibly the UK, to start that conversation and recognition of black presence in British history.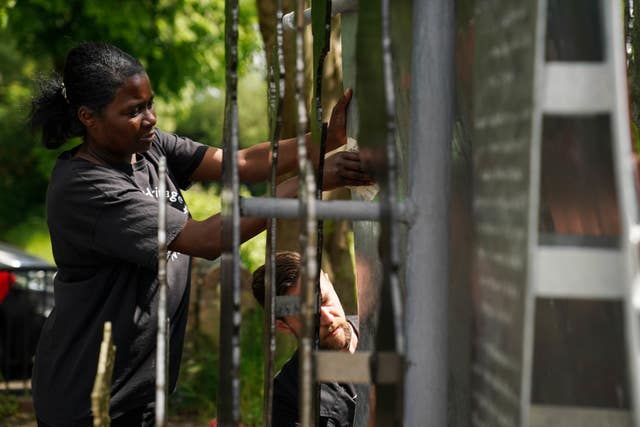 "Every nationality is here, so we're not going to let this worry us. It's minor."
The community project, involving the Canal and River Trust, Legacy West Midlands and Black Heritage Walks, took months to design and install.
Part of the work includes a depiction of a young boy sitting on the sign of Marshall Street, in Smethwick in Birmingham, where Malcolm X visited in 1965.
Mr Perry said the graffiti was "disappointing" but added he was "really proud" of the piece.
He said: "There is so much untold history because of the structure of the way we teach things that might not have turned up in history books.
"But it's fascinating, and it's relevant, and it's exciting."
"It's what makes us strong, it's what makes us colourful and flavoursome, it's beautiful, and so this is one of the most perfect places in the country to have this piece.
"It is part of a conversation, and as with all conversations, there are some people on the other side of it, but we've created this piece to educate people, so the ignorance that causes the graffiti that's on it, that's on the way out."