Soaring food prices have seen UK inflation ease back far less than expected in April, keeping up the pressure on households and raising the spectre of yet more interest rate rises.
The Office for National Statistics said Consumer Prices Index (CPI) inflation fell to its lowest level for more than a year last month, at 8.7% down from 10.1% in March, as energy prices stabilised after sky-high rises a year ago.
But it was higher than forecast by economists, who had pencilled in a drop to 8.2% in April, and more than the Bank of England had predicted just two weeks ago.
The figures showed food inflation at 19.3%, down only slightly on March's eye-watering 19.6% and remaining close to the highest rate for more than 45 years.
Chancellor Jeremy Hunt admitted food prices are "still rising too fast".
He said: "Today's fall in inflation… shows we're on the right track but there is no room for complacency."
"It's tough right now but things will get better," he added.
London's FTSE 100 Index slumped by 1.6% in mid-morning trading on Wednesday as the inflation surprise led to bets of more rate rises, compounding global market fears over a US debt deal.
Rates are at 4.5% because the Bank of England has voted for 12 successive hikes in a row to try and curb the cost crisis and financial markets are pricing in rates to hit nearly 5.5% after the latest inflation shock.
Samuel Tombs at Pantheon Macroeconomics said April's inflation decrease was "too small a drop for the Monetary Policy Committee (MPC) to stop hiking in June".
Martin Beck, chief economic adviser to the EY Item Club, said: "Today's inflation data raises the chances of a further rate rise at the MPC's meeting next month.
"However, with the MPC set to see another round of labour market and inflation data released before the June meeting, today's data doesn't mean a further rate increase next month is a certainty."
Last April, the energy price cap leapt up by 54% to £1,971 after Russia's invasion of Ukraine sent wholesale gas and electricity prices rocketing, but this year the Energy Price Guarantee (EPG) has been kept at £2,500 since last October.
Ofgem is set to confirm on Thursday that energy prices will fall sharply for households in July, when the current EPG comes to an end.
Consultancy firm Cornwall Insight predicts the price cap will fall by £446 to £2,054 a year, based on falling wholesale energy prices.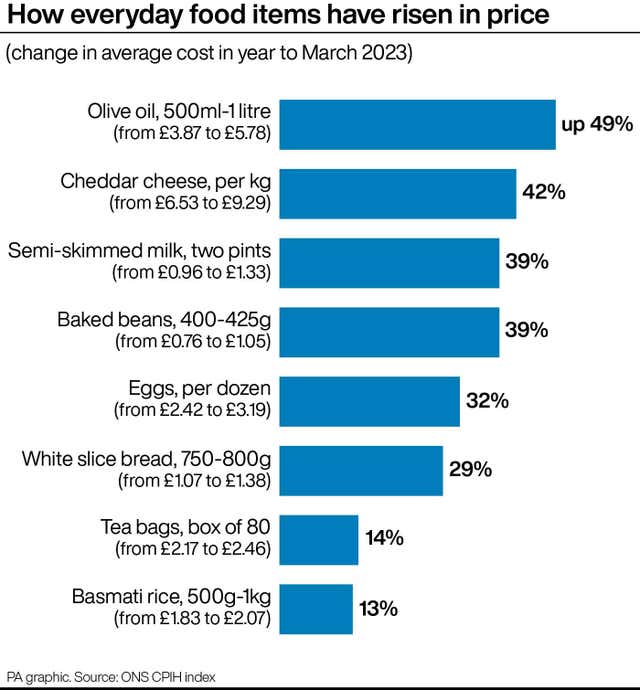 The Bank of England's top bosses admitted to MPs on Tuesday it made errors in its forecasting of UK inflation, but governor Andrew Bailey insisted inflation has "turned the corner".
Speaking to the Wall Street Journal CEO Council summit on Wednesday, Mr Hunt said the Government's inflation target is "still absolutely deliverable but we have to stick to the plan".
"We have to strain every sinew to make sure we deliver it," he said.
The latest data also showed the CPI measure of inflation including housing costs fell to 7.8% in April from 8.9% in March, while the Retail Prices Index slowed to 11.4% from 13.5% in March.