Food prices are taking centre stage in the cost-of-living crisis, placing significant pressure on household budgets even as overall inflation eases.
With latest Office for National Statistics figures showing food CPI (Consumer Prices Index) inflation at 19.3% – down only slightly on March's 19.6% – consumers continue to face budget-breaking price rises on kitchen cupboard essentials such as olive oil, up 49% on a year ago, cheese, now 42% more expensive, and milk and backed beans, both up 39%.
The ONS has published examples of how the annual rate of inflation for everyday food and drink items has risen or fallen in the past year.
Two figures are listed for each item: the average rise in price in the 12 months to March, followed by the average rise in price in the 12 months to April.
Here are examples of where the rate of inflation in April was lower than in March:
Olive oil: March 49.2%, April 46.4%
Low-fat milk: March 38.8%, April 33.5%
Cheese & curd: March 33.6%, April 30.6%
Whole milk: March 37.9%, April 26.3%
Ready meals: March 20.9%, April 20.8%
Butter: March 22.7%, April 20.1%
Fresh or chilled fish: March 19.0%, April 18.9%
Bread: March 18.9%, April 18.6%
Jams, marmalades & honey: March 20.9%, April 17.9%
Edible ices & ice cream: March 24.3%, April 17.8%
Meat: March 17.4%, April 17.2%
Coffee: March 15.6%, April 15.3%
Crisps: March 17.9%, April 14.5%
Pizza & quiche: March 17.2%, April 11.9%
Fresh or chilled fruit: March 11.6%, April 11.5%
Breakfast cereals & other cereal products: March 9.0%, April 8.1%
Here are examples of where the rate of inflation in April was higher than in March:
Sugar: March 42.1%, April 47.4%
Eggs: March 32.0%, April 37.0%
Sauces, condiments, salt, spices & culinary herbs: March 33.7%, April 33.9%
Pasta products & couscous: March 24.1%, April 27.7%
Potatoes: March 20.4%, April 24.8%
Yoghurt: March 21.9%, April 24.0%
Fresh or chilled vegetables other than potatoes: March 20.5%, April 22.2%
Fruit & vegetable juices: March 14.1%, April 21.1%
Dried or processed vegetables: March 18.3%, April 19.4%
Tea: March 19.0%, April 19.1%
Margarine & other vegetable fats: March 15.6%, April 19.0%
Rice: March 13.0%, April 14.9%
Chocolate: March 14.6%, April 14.9%
Soft drinks: March 12.2%, April 12.4%
Dried fruit & nuts: March 5.8%, April 7.2%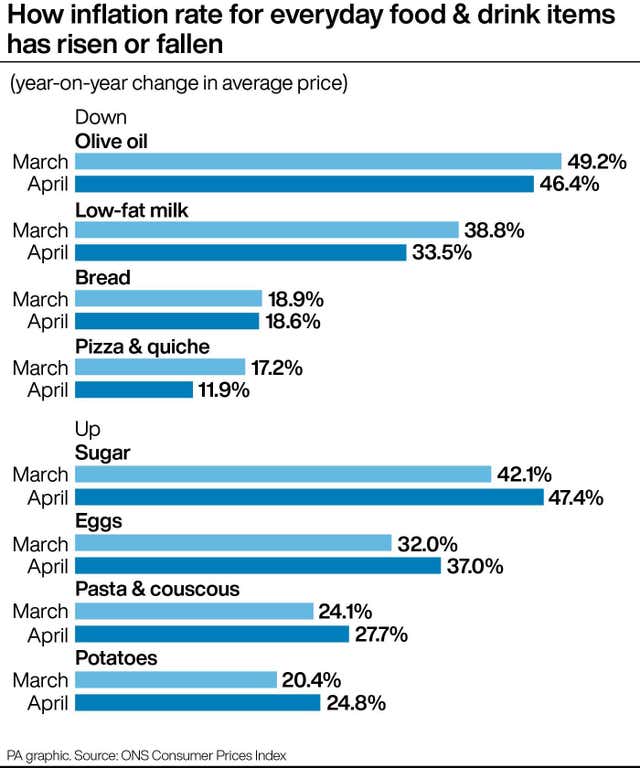 In the dairy aisle, the average cost of four pints of milk has come down by 8p since last month, but is still 30p higher than this time last year at £1.60.
On Tuesday, Chancellor Jeremy Hunt said the Government "stands ready" to update pricing rules after he spoke to representatives from the industry to raise concerns over the sky-rocketing cost of groceries.
The Resolution Foundation warned last week that food prices are set to overtake energy bills as the "epicentre" of the cost-of-living crisis, and would force low-income households to eat less as own-brand essentials are becoming unaffordable for some.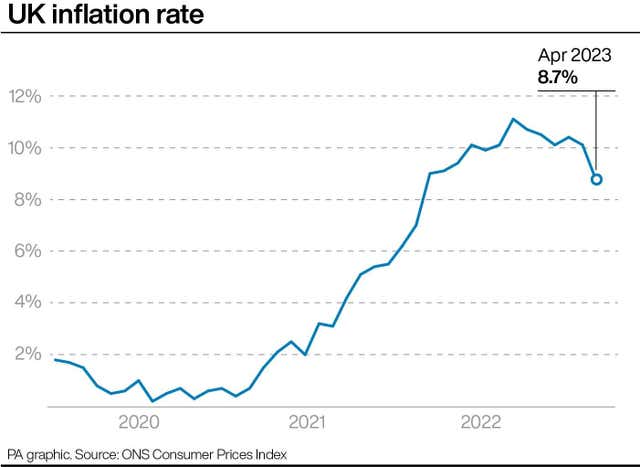 The CMA said last week it had not seen evidence pointing to specific competition concerns in the grocery sector "at this stage", but it was "important to be sure that weak competition is not adding to the problems".
It will provide an update on its work over the coming months.
The CMA is also scrutinising supermarket unit pricing to ensure retailers are sticking to rules that help consumers accurately compare products and choose the best value for money.
The Government will consider updating pricing rules, including by strengthening the Price Marking Order 2004, once the CMA review has concluded, the Treasury said.
Food manufacturers have agreed to "continue to engage with senior Government ministers" about potential measures to impose to ease the pressure on households, according to the Treasury.
Last week Tesco and Aldi announced announced another round of price cuts on own-brand pasta and cooking oil as deflation started to make its way through to cupboard essentials.
It followed a number of supermarkets dropping the price of some lines of bread and butter the week before in response to falling commodity prices.
Sainsbury's and Tesco also recently cut the price of milk by at least 5p, followed by Aldi, Lidl and Asda.
The latest cuts came as Downing Street hosted a "Farm to Fork Summit", bringing together farmers' representatives and food and retail trade bodies along with supermarket chiefs to talk about the Government's goal of boosting co-operation across the supply chain and the sector's resilience – and tackling rampant food inflation.