EasyJet has reported improved financial results, stating that consumers are "safeguarding their holidays" despite the cost-of-living crisis.
The company reported a loss before tax of £415 million in the six months to the end of March, compared with £557 million a year earlier.
It carried 33.1 million passengers over the six-month period, up 41% year-on-year.
EasyJet stressed that two thirds of the increase was due to a surge in fuel prices, and noted that half its fares currently on sale are no more than £50.
Chief executive Johan Lundgren said: "Recent research has shown that travel is the number one priority for household discretionary spend, with customers safeguarding their holidays and increasingly opting for low-cost airlines and brands which provide great value.
"People's views on travel have changed. It's become more important than prior to the pandemic, when a lot of people took travel for granted.
"Even if there's pressure on discretionary spending that households have, the priorities have changed.
He went on: EasyJet's optimised network combined with the strong demand seen for flights and holidays, enhanced revenue capabilities and operational resilience means we enter the summer with confidence."
The company also announced it will open its ninth UK base at Birmingham Airport in March 2024.
It said it will base three aircraft at the airport, creating around 100 direct jobs for pilots and crew, and supporting around 1,200 jobs in total.
EasyJet already operates flights to and from the airport, which recent analysis by the PA news agency found was the worst in the UK for delays to departing flights in 2021 and 2022.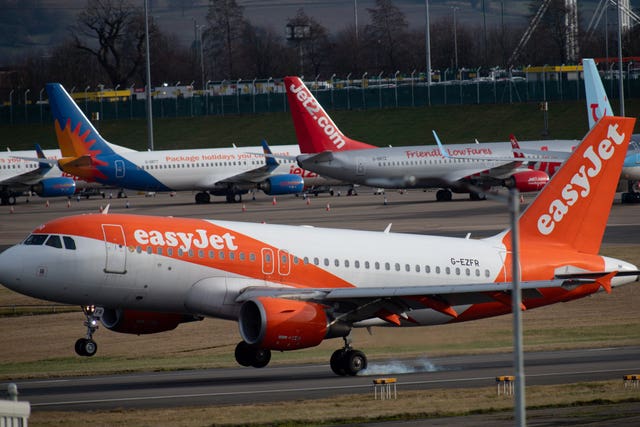 Mr Lundgren said: "Having already served Birmingham for many years, the decision to open a base and grow at the airport now is testament to the strong demand we see, coupled with the importance of the UK market in supporting our profitable growth.
"The UK is easyJet's largest market with 55% of all easyJet passengers flying to and from UK airports, so this move will not only reinforce our leadership position as the UK's largest airline, but also demonstrates our confidence in the resilient strength of demand for travel, with customers choosing us for our trusted brand, unrivalled network and great value fares."
Birmingham Airport chief executive Nick Barton described the decision as "a huge vote of confidence in the West Midlands".
He added: "Years of hard work have led to this. Together we look forward to years of future success."