Oxfam has called on the G7 to take "life-saving action" over famine in East Africa, as campaigners protested in Trafalgar Square ahead of the summit in Japan on Friday.
Demonstrators dressed up as G7 leaders including Prime Minister Rishi Sunak and US president Joe Biden wore oversized masks as they stood in front of six-feet-tall letters spelling "famine".
They covered their ears, eyes and mouths while a film highlighting the hunger crisis played in the background.
Climate-induced drought in the region, covering Ethiopia, Somalia, Kenya and South Sudan, has left 36 million people facing severe hunger, the charity warned.
Magnus Corfixen, Oxfam's humanitarian lead said: "G7 leaders have failed to live up to their commitments made two years ago.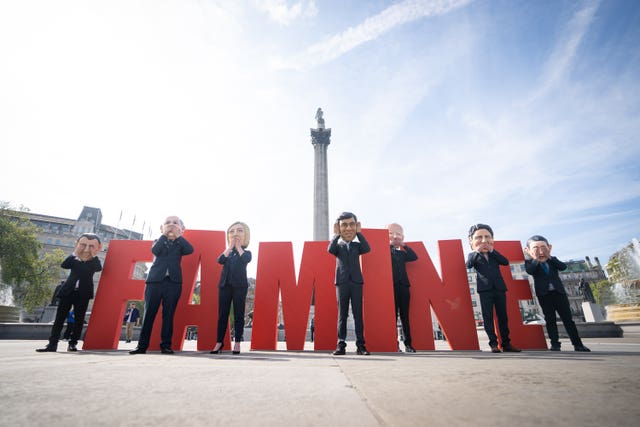 Mr Corfixen added: "We are here today to ensure that they live up to their political obligations to address this crisis with partners in the affected countries."
At the 2021 UK summit in Cornwall G7 leaders committed an initial £5 billion in humanitarian assistance to 42 countries at risk of catastrophe and famine, including £1 billion in aid to South Sudan, Nigeria and Yemen.
Conflict and high food prices have intensified the emergency in the region, with an estimated 85,000 people in South Sudan and Somalia on the brink of famine, according to Oxfam.
Areas of Somalia, Kenya and Ethiopia have undergone five failed consecutive rainy seasons and South Sudan five seasons of severe flooding.
War in Sudan has further increased pressure on South Sudan, with more than 30,000 refugees having fled to the neighbouring country since fighting broke out in April.
It is estimated that one person is likely to die every 28 seconds as a result of malnutrition in Ethiopia, Somalia, Kenya and South Sudan, based on data from the Integrated Food Security Phase Classification (IPC).
The World Health Organisation warned in March that food insecurity across East African countries had left 129,000 in the Horn of Africa "literally looking death in the eyes".