Clarkson's Farm star Kaleb Cooper is among food leaders who have arrived at Downing Street for a summit aimed at securing the UK's supermarket supply chains.
Cooper, a farming contractor who advises Jeremy Clarkson in the popular Amazon Prime series Clarkson's Farm, arrived at the Farm to Fork summit on Tuesday with supermarket chiefs and leaders of retail, trade and production organisations.
Downing Street said the Government's initiatives, as well as putting greater emphasis on farmers' interests during international trade negotiations, include reviewing supply chains to ensure producers are getting a fair deal and making it easier to turn properties on their land into farm shops.
Clarkson recently used a column he writes for the Sunday Times to reveal his "last roll of the dice" as he faces financial worries over the future of his Diddly Squat Farm, a 1,000-acre operation in the Cotswolds.
The presenter wrote: "On top of the physical issues, which will only get worse, there are financial problems too. And they're going to get worse as well.
"Because the grants and subsidies that I used to get from the EU, to recompense me for selling food at a loss, are dwindling until, in three years' time, they will dry up completely. These, then, are troubling times, because what am I to do?
"Farming hurts my back and my knees, and if I attempt to use my land to grow food, I'll lose money. It has been causing me some sleepless nights, that's for sure."
Asked about Cooper's attendance at the summit, the Prime Minister's spokesman told journalists: "I think he was in – and obviously that programme has been important in raising some of the issues that farmers face.
"And I think some of the policies set out today will support the farming sector."
The pledge on trade talks comes after former environment secretary George Eustice, who comes from a Cornish farming family, criticised the fresh trading terms with Australia, which he said "gave away far too much for far too little in return".
No 10 said a new framework for trade negotiations would commit to protect the UK's high food and welfare standards and prioritise new export opportunities.
The sector has also been handed notice that 45,000 visas will be available again to the horticulture sector next year to help with the picking season, matching this year's allocation.
"Supporting our farmers and food producers must, and always will be, at the heart of our plans to grow the economy and build a more prosperous country.
"That's why I'm proud to host this summit, and working together, I'm determined to build resilience, strengthen our food security and champion the best of British at home and overseas."
Ms Coffey said: "Food production is the primary purpose of farming, and our world-leading farmers and food producers work tirelessly, day in day out, to keep the nation fed, despite global challenges including the illegal invasion of Ukraine.
"I am delighted that today we have embarked on our next step to back British farmers and ensure a thriving food and drink sector which will see more British produce on supermarket shelves and plates both in the UK and across the globe.
"I look forward to working together, right across the food supply chain, to boost growth, innovation and sustainability."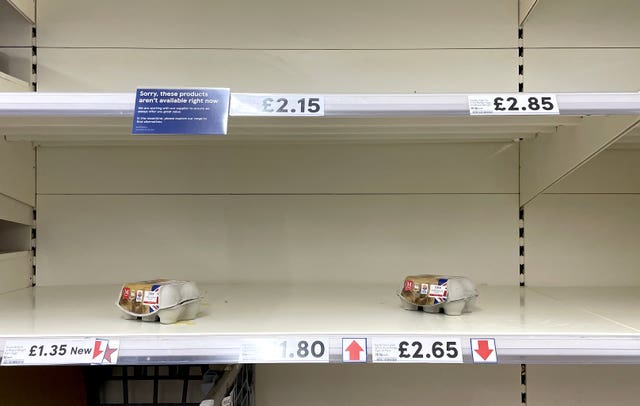 In moves designed to ensure farmers can get a fair price for their produce, ministers announced reviews into the horticulture and egg supply chains.
It follows shortages of eggs and fresh produce on supermarket shelves in recent months as weather, Brexit and the conflict in Ukraine all had an impact on domestic farmers and suppliers.
Plans to merge the Grocery Code Adjudicator with the Competition and Markets Authority have been abandoned, with Downing Street saying it recognised the "importance" the adjudicator plays in "ensuring our food supply chains function as they should".
Separately, the UK Government is pledging more money to help boost Britain's food sales on the world market, including funding for more global trade shows and the promotion of seafood exports.
Ministers also hope to unlock the benefits of innovative technologies to strengthen the country's food security with a commitment to invest £30 million to advance the use of precision-breeding technologies.
No 10 said it would build on the £8 million already invested over the last five years and the passing of the Genetic Technology (Precision Breeding) Act earlier this year.
Other measures include plans to cut red tape holding farmers back from delivering projects on their land to diversify their incomes, such as repurposing farm buildings to use as shops.
Food and Drink Federation chief executive Karen Betts said the summit risks "being a missed opportunity" to address inflation which is impacting the cost of food and drink.
She said: "Alongside farming issues, we believe the summit must address costly and heavy-handed regulation, post-Brexit labelling requirements, skills shortages and the complexity of border checks, all of which are pushing up costs when food price inflation is at a record high."