The brother of a woman accused of murdering her newborn son by assaulting him and then forcing cotton wool down his throat "had a feeling something wasn't right", a jury has heard.
Paris Mayo, who is now 19 but was 15 at the time of the incident, has gone on trial accused of killing Stanley Mayo before putting him in a bin bag at her parents' home in Springfield Avenue, Ross-on-Wye, Herefordshire, on March 23 2019.
She is alleged to have concealed both her pregnancy and her birth, alone and unaided, claiming she was unaware she was carrying.
Her brother George Mayo, now 20 but 16 at the time, gave evidence at her Worcester Crown Court trial on Monday, describing how earlier on the day of the birth his sister was "complaining of pain".
He described how Mayo then had a bath – her second of that day – at or shortly before 9pm, when he left the house to run an errand.
Mr Mayo returned to the home he shared with his mother, father and sister at about 10.30pm.
The court previously heard that by this time, his parents were upstairs as his father Patrick Mayo – who jurors heard had died just 10 days after the birth – was having home dialysis.
Mr Mayo had a police statement he made nearer the time read back to him, and agreed, in court, that on returning home Mayo told him she "had bled heavily – and not to come in" to a sitting room.
"Did she tell you she would clear up the mess herself?" Mr Hankin asked, with Mr Mayo replying: "Yes."
He then saw blood, describing them as "blotches of the size of a 50p piece".
After later taking a cup of tea to his sister, then in bed, around midnight, he went back to his room and tried to sleep, but told jurors: "I didn't sleep very well.
"I had a feeling something wasn't right."
The next morning, at 8.23am, he had a text message from his sister which read: "When you go outside, can you put the black bag in the bin, as it's just full of sick from last night, pls?"
The Crown's KC asked: "What did you see in the space underneath the bag after you lifted it up (off the front doorstep)?"
"Streaks of blood," he replied.
His mother, who was next to him at the door asking him to take out some recycling, had also seen him try to lift the bag.
Mr Hankin asked: "Did you (then) turn to see your mother on the doorstep, opening the unusually heavy and blood-stained bag?
"What was her reaction?"
Mr Mayo, snapping his fingers in court for emphasis, said: "She just went hysterical."
Asked by Mr Hankin if he had known his sister was pregnant, he replied: "I didn't have any idea at all."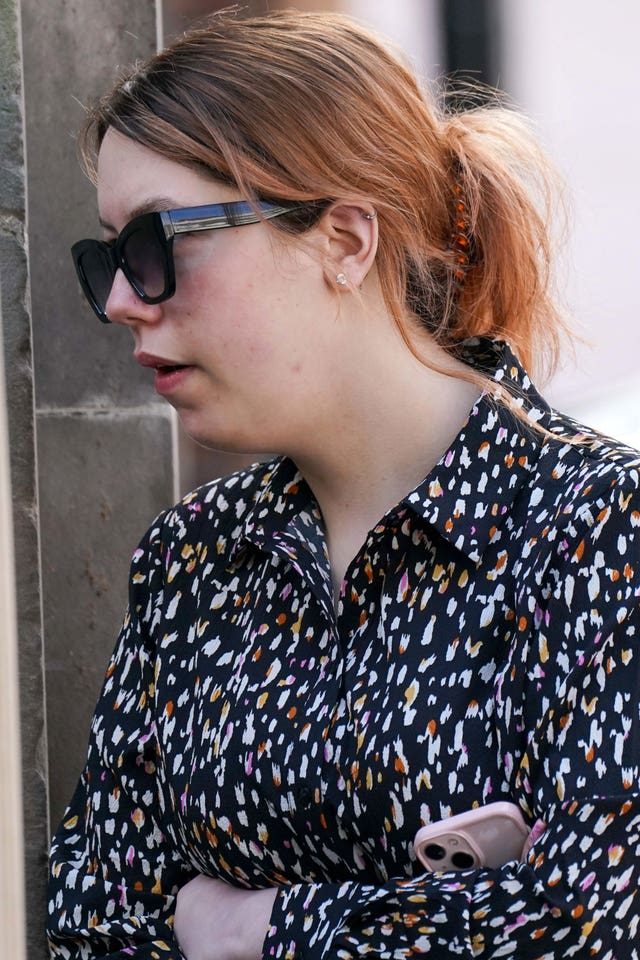 Under cross-examination from Mayo's barrister Bernard Richmond KC, Mr Mayo was asked about the character of his and his sister's late father, Patrick Mayo.
The siblings' father had a number of health ailments including "heart problems, diabetes and kidney failure" for which he was having home-based dialysis, upstairs, with the aid of their mother, at the time Mayo was giving birth.
Mr Mayo died just days after the incident, the barrister told court.
Mr Richmond asked Mr Mayo: "He was not an easy person, was he?"
"No," replied Mr Mayo.
Mr Richmond then asked: "One of the things he was, was very controlling?"
"He could be at times, he was fair but old-fashioned," Mayo's brother replied.
Mayo's barrister then asked: "I know it is very hard to speak ill of your dad, but as he became more ill, he became more frustrated, and his temper became shorter.
"He could, yes," replied Mr Mayo.
Asked if there was "pressure" on himself and Paris "to help as much as you could", around the house, while their mother was caring for their father, Mr Mayo replied "yes".
Mr Richmond then asked about an occasion when Paris had been needed to help out with dialysis, "but Paris couldn't deal with it and he (her father) told her she was useless and wasn't his daughter anymore?"
Mr Mayo replied: "I don't remember."
He agreed with Mr Richmond's words that "treading on eggshells" around their father "damaged" his and his sister's mental health.
In the immediate aftermath of the discovery of Mayo's lifeless newborn in a bin bag, Mr Mayo agreed his mother was "hysterical", and his sister was crying and upset.
Meanwhile, Mr Mayo was "in limbo, I didn't know what to or do, I sat there with dad and just sat in silence".
"The only thing he said was he asked me what was going on, I told him, and he didn't say anything, just nodded his head," he added.
Mr Richmond asked: "He sat there, stony-faced? Emotionless?"
"Yes," replied Mr Mayo, adding: "So was I."
Mr Richmond then asked: "In fact your dad did say one thing – he insisted the baby was given a name – not only given a name – it had to be the name Stanley.
"So whatever else was going on, your dad's contribution was the baby got to be called Stanley."
"Yes," replied Mr Mayo.
The Crown alleges Stanley suffered a fractured skull, possibly caused by Mayo's foot on his head, before she then stuffed five pieces of cotton wool into his mouth – two of which were found deep in the throat.
Mayo, of Ruardean, Gloucestershire denies wrongdoing and the trial, expected to last six weeks, continues.