The sister of an Irishman released from an Iranian prison has described the "unbelievable moment" she greeted him off an aeroplane in Paris.
Bernard Phelan, a 64-year-old Irish-French national originally from Clonmel in Co Tipperary, was detained in a jail in north-east Iran for seven months.
Mr Phelan and another French national, Benjamin Briere, who was in custody for two years, were released on humanitarian grounds at the end of last week and flown to Paris.
Caroline Phelan, Mr Phelan's sister, and officials from Ireland's Department of Foreign Affairs were at the airport to welcome him on arrival.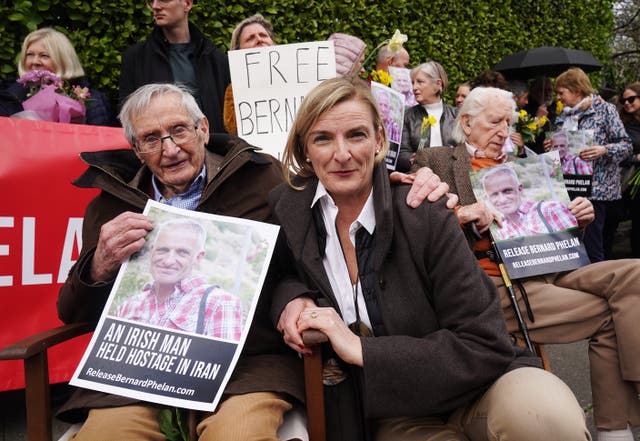 "Just couldn't believe it, couldn't believe it. To see him walking off the plane in France after such stress and such a long time and huge hugs, and also the members of the Department of Foreign Affairs that has helped us in Dublin had flown over to be with us, so we were all in tears.
"So it was an amazing moment. And then the French team were there as well. And we've all bonded over these seven months. Just to welcome him home. And of course then we rang my father in Dublin. So, my father (Vincent) is 97 and he thought he'd never see his son again. So it was a very special moment for him too."
Mr Phelan, a Paris based travel consultant, was arrested for allegedly taking photos of police officers and a burned mosque following an anti-regime protest in Iran last autumn.
He was accused of providing information to an enemy country – charges he denied.
Mr Phelan experienced significant ill health while in custody.
"He looked weak, but just still overjoyed," she said.
"So I think that joy was boosting him. So he is in hospital. I saw him yesterday (Sunday).
"He can't get over the peace and quiet, the silence after being in a cell with 16 other people, having a bathroom.
"And the day before he had his bare feet in the grass because he hasn't seen grass for seven months. They had a courtyard with big high walls and they were only allowed out for 45 minutes a day. So just to put bare feet in the grass on the Saturday afternoon was heaven."
Ms Phelan rejected claims from the Iranian authorities that her brother was cared for appropriately in prison.
"We wouldn't consider that he was well looked after," she said.
"He did see a doctor, there was a doctor in the hospital, he was given tests in the last month. He was given a chair and a table in the last month, but he was sitting on the floor for six months.
"Maybe in Iranian standards they think that a prison like that is OK but not in our standards to treat people like that. We would not agree that he was well looked after. But he's home safely and that's what counts."
She said her brother was looking forward to a fried breakfast and a cup of tea on his return to Ireland.
Ms Phelan added: "I think he's also very conscious of the other Europeans he left behind, it's something he raised with me, he's very conscious that himself and Benjamin got home but there are a lot of other Europeans in Iran today. I don't know when they will come home, but he is very thankful to be one of the first home."