Getting people back into work could have an important part to play in whether Rishi Sunak remains Prime Minister after the next election, a Cabinet minister has suggested.
Work and Pensions Secretary Mel Stride said his plan to reduce the number of people who are economically inactive in the UK following Covid could hand the Chancellor the fiscal room he needs to serve up a pre-election tax cut.
The Cabinet minister insisted the "game is not up" for the Conservatives at the next Westminster election despite receiving a drubbing at the local elections in England.
The Tories lost more than 1,000 council seats in a bruising set of results last week but Mr Stride predicted the general election – widely expected to take place next year – could pan out far better for the party, which has been in power for 13 years.
Mr Stride argued that one of the "most important" drivers in potentially snatching victory from Labour, which is currently about 16 points ahead of Mr Sunak's party in opinion polls, would be getting people back into work after Covid.
The former Treasury minister suggested that getting the 650,000 people who left the labour market during the pandemic back into the workforce could allow Chancellor Jeremy Hunt to slash the basic rate of tax ahead of the next election.
Mr Stride – a key ally of Mr Sunak, having helped run his campaign for Tory leader – has been tasked with coming up with policy initiatives that can help entice the over-50s and others who left the workforce during coronavirus back into employment.
Speaking at a political correspondents lunch in Parliament on Thursday, the Central Devon MP said: "One of the most important elements of our success, if that is what is to happen, will be what I and the Chancellor do particularly around the economy and economic inactivity."
Citing the 650,000 people who became economically inactive during Covid, he added: "If we can get all of those people back into work, it will increase the size of the economy by about 0.2%, which will reduce the borrowing requirement by £11 billion, which will be enough to take 2p off the basic rate of tax.
"So what I'm in the business of doing is getting people back into work because work is very good for people.
"But (it is) also delivering the Chancellor with the greatest possible flexibility when it comes to setting out his stall this autumn and in the spring that is to follow."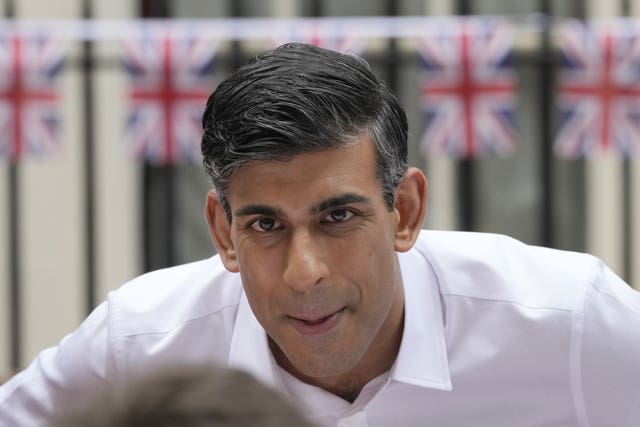 Mr Stride told the reporters he could see a "narrow path through to victory" for Mr Sunak following the local elections.
He cited Labour failing to secure a vote share victory of more than 10 points over the Tories and the part played by tactical voting as reasons behind his thinking.
Mr Stride said the "huge amount" of tactical voting – where voters rally behind a party or candidate to prevent another they like less from winning – seen at the council elections was likely to be "squeezed out" at the general election, along with a potential "tightening" of opinion polls.
Taking questions after his speech, the senior Tory said that, as long as there were questions over whether Labour Party could win a majority, his party would continue to "exploit" the possibility that Sir Keir Starmer could strike a coalition deal in order to make up the numbers and put him in Downing Street.
Sir Keir, under questioning from broadcasters this week, repeatedly declined to rule out entering into a pact with the Liberal Democrats if Labour fails to secure a majority.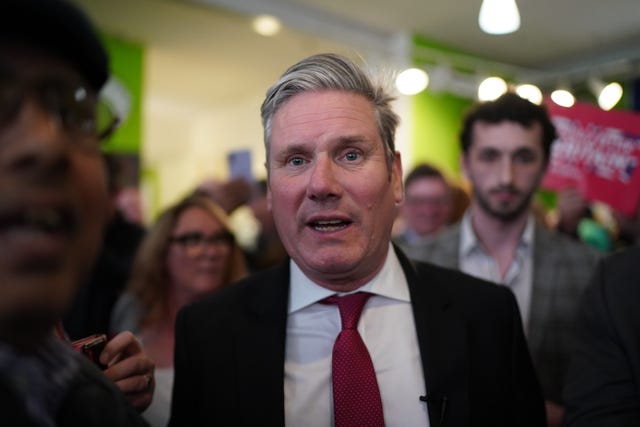 "If you vote for Labour, what are you going to end up with? Being propped up by the Scottish National Party (SNP), are you going to get propped up by the Greens or the Lib Dems?
"I think there is plenty of grist to the political mill that flows from this issue of us kind of standing alone in that tactical sense, which might not be unhelpful."
Elsewhere, Mr Stride refused to join in with right-wing Tory criticisms of civil servants.
Asked for his view on working with the Civil Service, he said that civil servants can get an "awful lot done" if managed well and if ministers "treat people with respect" and raise matters professionally when they are unhappy.
The comments come after former deputy prime minister Dominic Raab resigned after a report into his conduct found he had behaved towards aides in a way that could be ruled to have been bullying.
Mr Raab, who had also been justice secretary before quitting, later hit back at what he called "activist" civil servants who he accused of working against him.