The Government has been challenged over it clinging to "obnoxious" plans dealing with Northern Ireland's troubled past.
Noting other legislation had been dumped by the Tory administration, former DUP deputy leader Lord Dodds of Duncairn questioned its continued commitment to the Northern Ireland Troubles (Legacy and Reconciliation) Bill, which was "unwanted and unloved".
Labour former Northern Ireland Secretary Lord Murphy of Torfaen also argued the draft legislation was "doomed" and there was still time to ditch it.
The calls came as the Bill had its final committee sitting in the House of Lords and after the Secretary of State Chris Heaton-Harris promised a number of "game-changing" amendments would be proposed at the next parliamentary report stage.
The proposed law would provide immunity for people accused of crimes during the Troubles, as long as they co-operate with a new truth recovery body, known as the Independent Commission for Reconciliation and Information Recovery (ICRIR).
The Bill would also halt future civil cases and inquests linked to killings during the conflict.
It has been widely criticised by political parties, the Irish government and victims' groups.
Referring to the comments of the Secretary of State, Lord Dodds said: "He was very adamant these would be really be very very significant amendments indeed and it seems a shame that we should be kept waiting having gone through the entire committee stage of the Bill to be told there are going to be 'game-changing' amendments.
"It seems wrong we should be left to debate this in report… I certainly look forward to examining them in detail."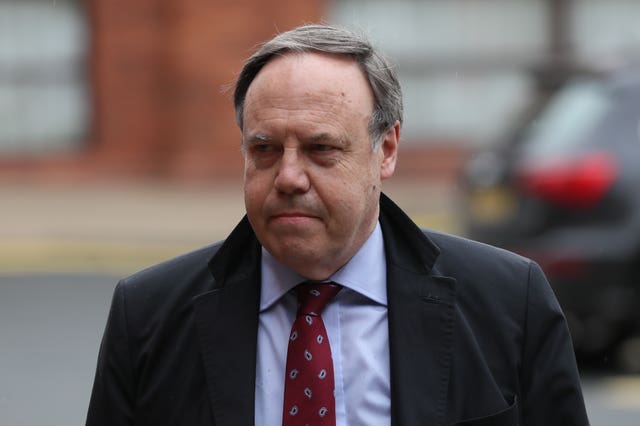 "We have seen speculation that other major plans of Government legislation will be dropped.
"But still this Bill, which is unwanted and has no support in Northern Ireland… this Bill persists, this Bill grinds on, unwanted and unloved.
"The only people who seem to be driving it forward are the Government.
"For the life of me I fail to understand why they cling to this obnoxious piece of legislation."
Lord Murphy said: "I honestly think it really is time to dump it.
"There is no support and all my experience in Northern Ireland has been based on the fact that if there isn't support across the community for something then it is doomed.
"I believe it's wrong something so controversial as this can go ahead unless there is community support, political support, legal support both here and particularly in Northern Ireland.
"There's still time."
Referring to other legislation that had been dumped, such as the Schools Bill, he added: "Now is the time for that."
Northern Ireland Office minister Lord Caine said: "As I have made very clear throughout the passage of this Bill I have never viewed the amendments I have brought forward and debated in committee as the end of the story.
"I think it would be unusual for me to trail amendments at report stage before we have finished the committee stage of the Bill."
He added: "I have made very clear… it is challenging legislation.
"It has been challenging for me from the outset.
"My commitment has always been to try and bring forward amendments which would improve the legislation and put it in a better state to go back to the House of Commons and that commitment will continue."