Two teenagers who fatally stabbed a 16-year-old Afghan refugee in the mistaken belief he was a member of a rival gang have been jailed for life.
Vanushan Balakrishnan and Ilyas Suleiman, both 18, stabbed Rishmeet Singh 15 times after chasing him through a park in Southall, west London, on the evening of November 24 2021.
Balakrishnan and Suleiman, from Hillingdon, west London, were found guilty of murder following an Old Bailey trial in March.
In a televised sentencing at the Old Bailey on Wednesday, Judge Sarah Munro KC locked up the defendants for life.
Suleiman was handed a minimum term of 21 years and Balakrishnan at least 24 years.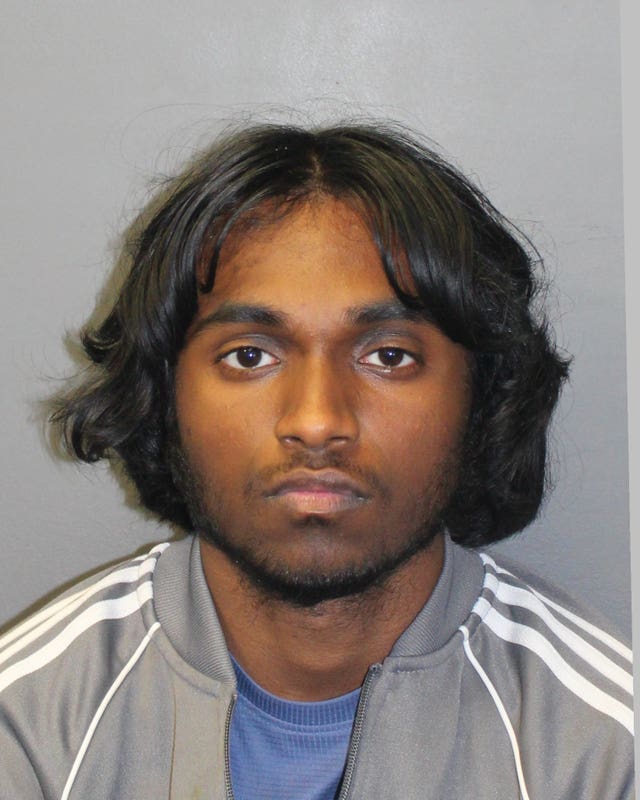 He had admitted attacking a fellow inmate at a young offenders institute while on remand, leaving the victim with severe brain damage.
Judge Munro said: "This case is yet another tragic example of the needless loss of a young teenager following a violent stabbing on the streets of London.
"This case is the more tragic because Rishmeet was an entirely innocent victim.
"He was described as a good person who would not hurt a fly. He was never involved in any kind of violence.
"It defies belief you two sought him out to kill him."
Rishmeet's mother Gulinder broke down in tears as she spoke outside court with the help of a translator.
She told reporters: "I just want to say I do not know what my child has done that they killed him in this way.
"My son has got proper justice. I do not want these people to come out. I want them to stay inside."
Previously, the court had heard how Rishmeet had spent the evening before his death with friends in the park.
Meanwhile Balakrishnan and Suleiman, then aged 17, set out on bicycles armed with two blades, a "terrifying" three-foot long machete and a Rambo knife bought online days before.
The court was told they had deliberately set out for a "glide" or gang attack on enemy gang territory.
As Rishmeet headed for home he saw the two males running towards him and ran back towards his friends  warning them to "run, run".
He tripped and fell in Raleigh Road, where he was fatally stabbed by the defendants in an attack lasting 27 seconds.
Police and medics were alerted by a member of the public and Rishmeet died at the scene.
The attackers were captured on CCTV fleeing and were identified by their clothes.
A picture of his blood-stained knife posted on social media after the murder was found on his mobile phone.
The court heard Balakrishnan had a previous conviction for possessing a Rambo knife, for which he was given a referral order in February 2021.
The court heard that Rishmeet was not in a gang and the defendants had mistakenly thought he was part of a rival gang.
Detective Inspector Laura Semple, of Scotland Yard, said: "Rishmeet was an innocent, young 16-year-old who had his whole life ahead of him.
"He had just spent an enjoyable evening with his friends and was making the short walk home when he was callously chased down and knifed to death by Balakrishnan and Suleiman.
"Between them, they stabbed him 15 times while he was defenceless on the floor.
"There is never an excuse to murder someone in cold blood, but this case is made even more tragic by the fact that Rishmeet was wrongly targeted by his attackers.
"Balakrishnan and Suleiman left the flat that day with the intention of ending someone's life. Poor Rishmeet was simply in the wrong place, at the wrong time.
Rishmeet's mother Gulinder said: "Rishmeet was my only child, and he had his whole life ahead of him. No words could ever explain or put into context how I have felt since Rishmeet was taken from us.
"He has been raised with so much love and now he's gone. I am struggling to understand as to how and why this happened to my baby boy.
"I feel I have lost everything and my life is over.
"Rishmeet was attending college completing a public service course and his ambition was to become a police officer, all he wanted to do was to help people.
"Rishmeet was well loved by all that knew him, he was a faithful boy and was very caring in his nature.
"His brutal and untimely death has taken away my lifeline as Rishmeet was also my registered carer.
"I will never recover from this evil act. I have lost my husband and now I have lost my only child, my son. Justice is finally served for Rishmeet but their sentence will never be enough for me. They have taken my whole life away from me and Rishmeet will never come home again."
Mitigating for Suleiman, Hossein Zahir KC told the court: "In reality, there is the agonising fact of the youth of all those involved.
"There is the appalling death of Rishmeet Singh and there is the extraordinary youth of the defendants in the dock.
"Mr Singh has lost his life and there are two young people whose lives are wholly destroyed."