The King broke ground for a new laboratory that aims to speed up the development of net zero aviation in his first official engagement since his coronation.
Charles, 74, toured Cambridge University's Whittle Laboratory, which has recently secured funding to develop a new £58 million lab.
He added: "It's very unfair. I was rather looking forward to doing a bit of gardening."
The King then sank the spade into the earth, using his foot to help lift a lump of turf out, before raising the spade aloft.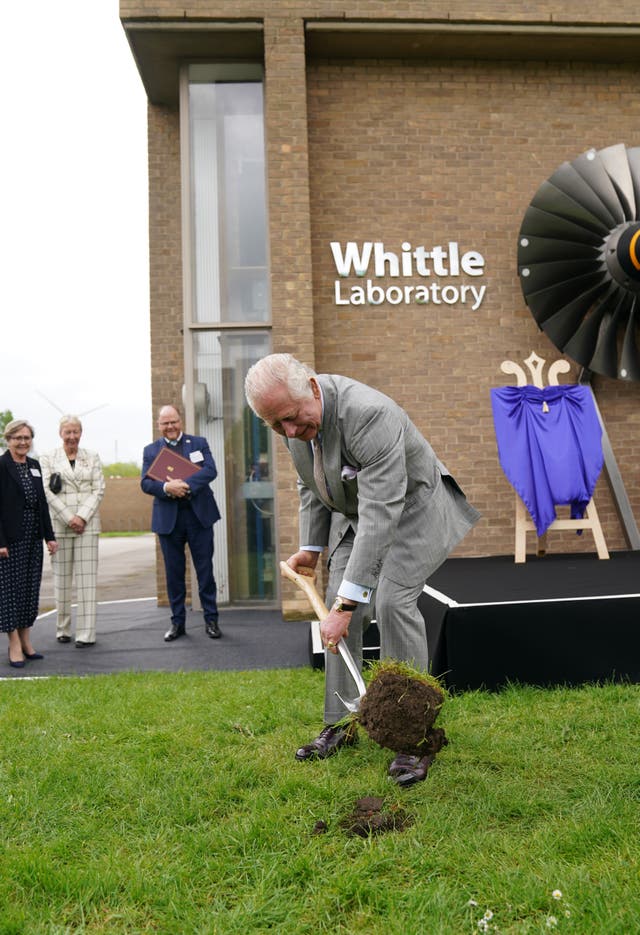 As he walked to the stage the King paused to help a woman whose shoe had come off after its heel got stuck in the soft earth
It aims to halve the time it takes to develop key technologies towards net zero aviation and energy, which can typically take six to eight years to reach the point of being considered for commercial use.
Trials at the Whittle Laboratory have indicated timeframes could be accelerated by breaking down silos that exist between academia and industry.
The King arrived in a Bentley to tour the existing lab on Tuesday, which he has visited twice before, in 2020 and in 2022.
He met leaders from the aviation industry and from government, including Energy Secretary Grant Shapps and science minister George Freeman.
Charles attended a collaborative roundtable meeting to discuss potential future pathways to a sustainable aviation industry.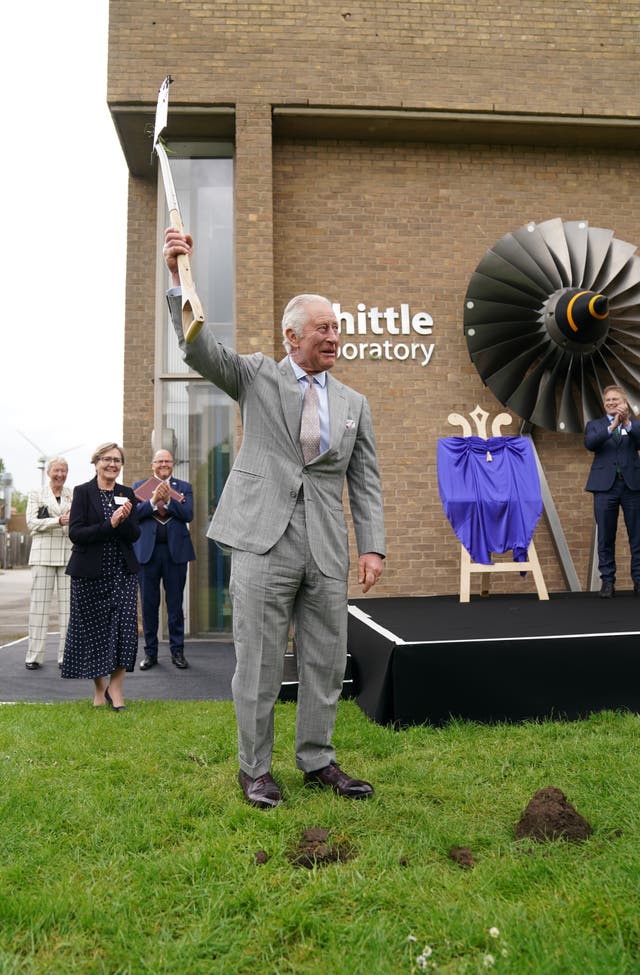 Many others, who had noticed that something was happening, lined the nearby pavement to catch a glimpse of the King from behind a rope cordon manned by police.
During his speech, Charles said: "I can't tell you what a joy it is to be here, my third visit.
"I think you'll probably be getting fed up of them by now.
"But I really wanted just to express my enormous admiration of what (director of the Whittle Laboratory) Rob Miller is doing here with the Whittle and his remarkable team.
"And of course the key exercise of all this is to keep the team in being and expand it, but not lose all these remarkable people who have the innovative capacity and the engineering skills to help lead what we need so badly and so urgently in order to save this planet from increasing catastrophe.
"And of course the aviation sector is critical in all this."
The Whittle Laboratory, an aerospace and energy laboratory, was opened in 1973 by Sir Frank Whittle, who founded the company that invented the jet engine while still an undergraduate at Cambridge.
Over the last 50 years the lab has helped shape the propulsion and power sectors through industry partnerships with Rolls-Royce, Mitsubishi Heavy Industries and Siemens.
As Charles left the laboratory someone in the crowd shouted "God save the King".