The UK's aerial evacuation mission from Sudan is over with the passengers on the final repatriation flights expected to land in Britain within hours.
Two flights organised by the Royal Air Force (RAF) were expected to land in Cyprus late on Monday.
The evacuees, which include Sudanese doctors working for the NHS, were then expected be transported to the UK within 48 hours of landing at the Larnaca airbase, the Foreign, Commonwealth and Development Office (FCDO) said.
The number of people who were on the last rescue flights, which left from Port Sudan, more than 500 miles east of the capital Khartoum, is expected to be announced by the Foreign Office on Tuesday.
While the UK Government said it expected no more flights to leave following the bank holiday airlifts, Royal Navy warship HMS Lancaster will remain in the Red Sea to support any further evacuation efforts from Sudan.
A fragile three-day ceasefire was holding together despite opposing troops clashing in Khartoum on Monday.
Foreign Secretary James Cleverly said: "With thanks to the extraordinary efforts of staff and military, the UK has brought 2,197 people to safety from Sudan so far — the largest airlift by any Western nation.
"As the focus turns to humanitarian and diplomatic efforts, we will continue to do all we can to press for a long-term ceasefire and an immediate end to the violence in Sudan."
Defence Secretary Ben Wallace said: "Yet again the men and women of our armed forces have led the way.
"In one week, the RAF have flown more than 20 flights, deployed over a thousand personnel, evacuated over 2,000 civilians and helped citizens from more than 20 countries to get home.
"HMS Lancaster will remain at Port Sudan and her crew will continue to help provide support."
In addition to British nationals, the UK helped evacuate 1,087 people from other nations, including the US, Ireland, the Netherlands, Canada, Germany and Australia.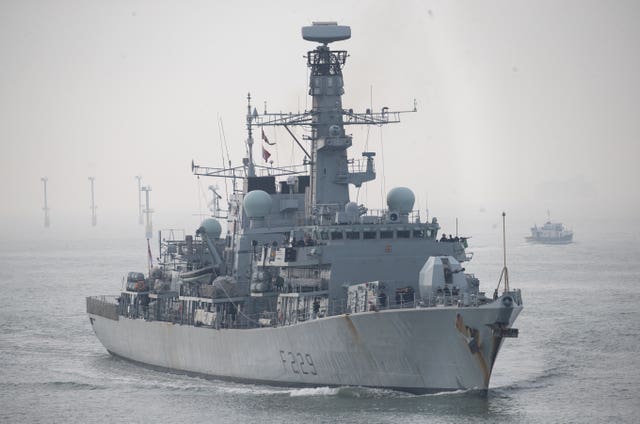 British forces have handed over the co-ordination of evacuations at Wadi Seidna airfield to the north of Khartoum Sudanese authorities.
Members of the Royal Engineers carried out urgent repairs to the runway between flights, the first time an operational airfield has been repaired by British forces since the Falklands conflict in 1982.
There is hope in the West that an internationally-brokered ceasefire could be reached to quell the fighting.
The United Nations said the rival generals, Sudanese army chief General Abdel Fattah Burhan and General Mohammed Hamdan Dagalo, the head of a paramilitary group known as the Rapid Support Forces (RSF), have agreed to send representatives to the negotiation table in a bid to establish a more stable truce.
Generals Burhan and Dagalo, both with powerful foreign backers, were allies in an October 2021 military coup that halted Sudan's fraught transition to democracy, but they have since turned on each other.