Scottish Secretary Alister Jack is "standing guard" over the Stone of Destiny in London to make sure "nationalists don't steal it again", Tories have been told.
The UK Government minister addressed the Scottish Conservatives' conference via video, with junior Scotland Office minister John Lamont appearing on stage to explain why his boss could not be there.
He told delegates at the conference that Mr Jack had been "unavoidably detained in London, standing guard over the Stone of Scone ahead of its central role in the King's coronation next week".
The Stone of Destiny, also known as the Stone of Scone, was transported from its usual home in Edinburgh Castle to London earlier this week, where it will be used in the coronation of the King next weekend.
Mr Lamont said: "Alister is primarily making sure that nationalists don't steal it again.
"But he is also making absolutely certain that the stone does come back to Scotland."
Mr Jack, meanwhile, said he could not be in Glasgow for the Scottish Conservatives' conference because he had "an important job elsewhere helping to prepare for the coronation of His Majesty the King".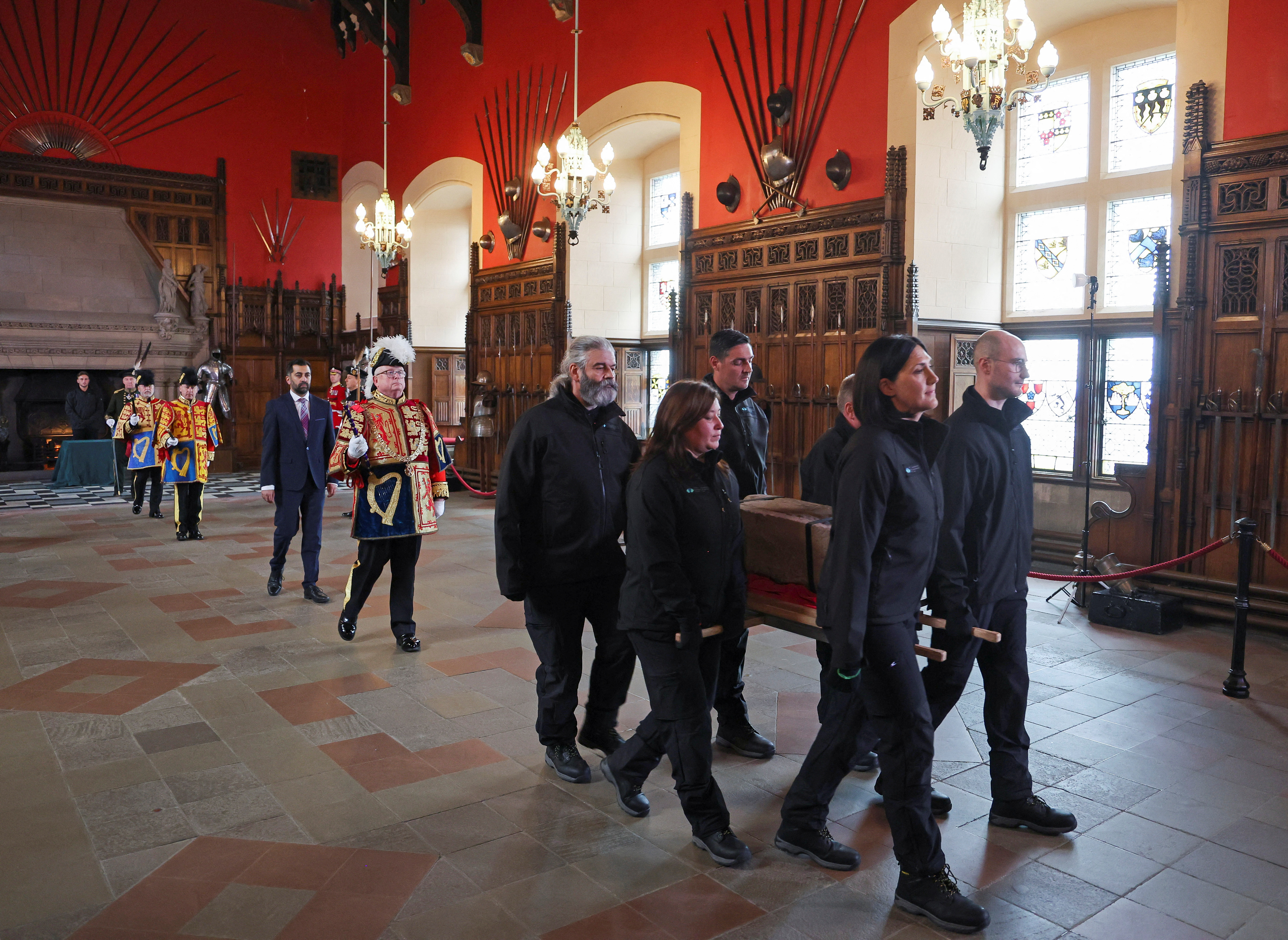 Mr Jack went on to use his speech to attack the SNP, claiming Scotland's ruling party "are not a serious party of government, they are simply a campaign organisation for independence".
He said the SNP-Green administration at Holyrood "isn't just misguided, it is totally incompetent".
He said that with nationalists in power "it sometimes feels like devolution in general is not easy".
Mr Jack added: "It's my job to work with these people. And believe me, it is not always easy."
Highlighting the "fundamental political differences" between the two governments, Mr Jack said: "We have a UK Government that is committed to devolution, that believes in our system of two governments, and wants to strengthen Scotland's place at the heart of the UK."
But he added: "We have a nationalist SNP-Green Scottish Government that opposes devolution, wants to end it and tear Scotland out of the UK."
Most Scots want to see the two governments "working together on the issues they really care about", Mr Jack said.
But he said "the SNP-Green coalition's opposition to, and abuse of, devolution acts like a drag anchor on Scotland's potential".
In contrast he claimed the UK Government was "delivering for communities on the ground right now", adding that: "All in all, direct UK Government investment in Scotland now stands at £2.3 billion."
He accused the SNP and Greens of using "their position in government not to focus on people's priorities, but to promote separatism".
Mr Jack said: "They use their position to manufacture phoney grievances as part of their endless campaign to tear Scotland out of the UK"
He called Scottish Constitution, External Affairs and Culture Secretary Angus Robertson "Air Miles Angus" for his trips overseas and claimed he used these visits to promote Scottish independence with foreign governments and dignitaries.
"It is simply not acceptable for Scottish Government ministers to abuse the support they receive from the Foreign Office during overseas visits," Mr Jack said.
"The Foreign Office has and always will support the Scottish Government to promote Scotland abroad.
"But nationalist ministers should not expect the Foreign Office to facilitate high-level meetings overseas so they can undermine UK Government policy and promote their independence campaign."
SNP Westminster deputy leader Mhairi Black commented: "The Tories have no mandate in Scotland.
"Instead of lecturing others, Alister Jack should be apologising for his Tory Government's appalling record of trashing the UK economy – and making millions of Scots poorer by imposing a devastating hard Brexit and Tory cost-of-living crisis.
"With Scottish devolution and household incomes under sustained attack from Westminster, the SNP is the only party offering a real alternative to the Tories.
"Voting SNP is the best way to beat the Tories in Scotland at the next election and the only way to get rid of Westminster Tory governments for good with independence."