Scottish Conservative leader Douglas Ross has denied ever recommending tactical voting.
Mr Ross caused consternation in his own party last month when he used an interview in the Daily Telegraph to say voters should "get behind" the candidate best placed to defeat the SNP.
But within hours of the comments, a spokesman for the UK Conservative Party said that is "emphatically not" its position, while a report in The Scotsman quoted senior Tory MSPs saying they had not been consulted about the comments.
Mr Ross is expected to use his Scottish Tory conference speech on Friday to tell party members that the best way to beat the SNP is to vote Conservative.
Speaking to the BBC ahead of the conference, Mr Ross claimed he had never pitched the idea of tactical voting.
"In fact, the words I used were exactly the same words the Prime Minister used in his interview with the BBC yesterday, I'm Scottish Conservative leader and I will always encourage people to vote Scottish Conservative.
"We know in many seats that Scottish Conservatives are the best-placed party to beat the SNP.
"So at the next next general election, which is coming next year, if people want to send a message to Humza Yousaf to say concentrate on the real priorities of people across Scotland, not your obsession with another independence referendum, vote Scottish Conservative so we can beat the SNP."
During his conference speech, Mr Ross is expected to say: "This failing SNP Government, mired in scandal and sleaze, cannot focus on governing our country.
"They cannot tackle the big challenges Scotland faces.
"It is painfully obvious that Humza Yousaf is not up to the job of being First Minister.
"At the general election next year, people across Scotland have a choice.
"They can give Humza Yousaf a blank cheque; the thumbs up to continue to lead an incompetent government and to focus on the priorities of the SNP.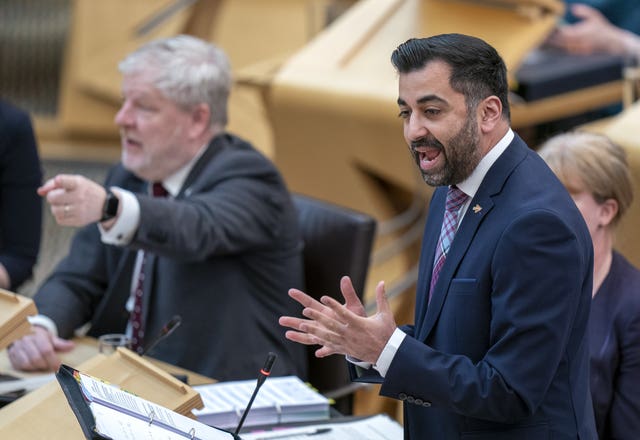 "The best way that Scots can do this in seats right across our country is to vote for the Scottish Conservatives."
Mr Ross also rejected assertions that his leadership is in jeopardy, following a report in The Scotsman.
Asked if he is "on a shoogly peg", he said: "No, and as I said in response to that, I am focused on holding Humza Yousaf and this failing and tired SNP Government to account.
"We're focused, as you'll hear at our conference over the next couple of days, on prioritising the real issues that matter to people across Scotland.
"That's dealing with the cost-of-living crisis, that's improving our NHS, raising educational standards.
"These are all things that are in the power and the gift of the Scottish Government and the Scottish Parliament at the moment that aren't getting the attention they deserve, because Humza Yousaf would rather continue where Nicola Sturgeon left off, create conflict with the UK Government and Westminster rather than focusing on these issues that could really make improvements to the lives of people across Scotland."