The deaths of three family members in a road crash in Co Tyrone is too hard to comprehend, a priest has said.
The victims – named locally as Dan McKane, his sister Christine and their aunt Julia McSorley – died when the minivan they were travelling in collided with a lorry near Aughnacloy early on Thursday morning.
The family members were travelling home from attending a funeral of a relative in England. Four others travelling in the van were injured in the crash and taken to hospital.
The victims were from the Strabane and Newtownstewart areas of Co Tyrone.
A religious vigil will take place in Strabane on Friday evening while a special mass will be held in Aughnacloy.
Priest Fr Declan Boland from Strabane said the incident had brought shock and profound sadness.
"We're still trying to come to terms with the enormity of the loss," he told BBC Radio Ulster.
"This was a family coming back from Corby after burying their aunt and to hear that a brother and a sister and an aunt have all been taken so quickly in this tragic accident, it's really too hard to comprehend.
"And the entire community of Strabane, and indeed the aunt is from Newtownstewart, so the community that is here in Strabane and Newtownstewart are deeply grieving at his time and trying to come to terms with this huge, unexpected loss."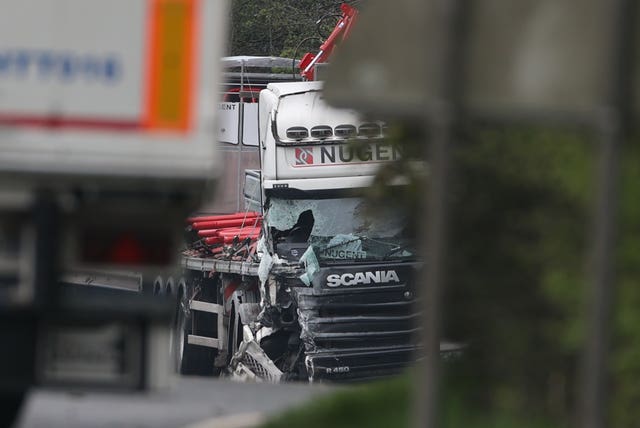 The incident has intensified calls for a long-stalled upgrade of the A5 to proceed without further delay.
Sinn Fein vice president Michelle O'Neill made that demand as she expressed condolences.
"My heartfelt sympathies to the families of those killed in Aughnacloy, & best wishes to those injured for a full recovery," she tweeted.
"The community of Strabane is in our thoughts during this heartbreaking time.
"The A5 must be built now, no one should ever have to experience this heartache."