Ian Blackford has said his successor as the SNP's Westminster leader, Stephen Flynn, gave him a "categoric" assurance that auditors for their group were in place.
However, Mr Flynn has denied this is the case, saying work to find new auditors for the SNP group is continuing and such a categoric assurance is not possible.
The two SNP MPs appear to be at odds with one another amid the ongoing row around the party's finances.
Both the SNP as a whole, and its Westminster group, are seeking new auditors as accounts deadlines approach.
The party's group of MPs must submit its accounts by May 31 or face losing about £1.2 million in Short money – the public funding given to opposition parties for their parliamentary work.
Mr Blackford told the BBC he spoke to Mr Flynn over the phone on April 7 and was given the assurance a new auditor was being appointed.
The Ross, Skye and Lochaber MP later tweeted about this, saying: "Let me be quite categoric that I was phoned on the 7th April by Stephen and told this information."
As he took questions at an Institute for Government (IFG) event in London on Tuesday, Mr Flynn was asked about his predecessor's claims.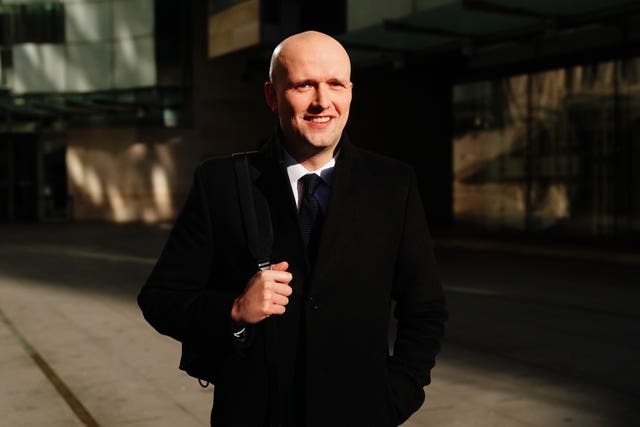 "Am I hopeful that we'll be able to do that? Absolutely.
"Does that equate to having an audit firm in place – does that equate to having certainty that I will be able to meet the deadlines which have been placed upon us by the House of Commons?
"No, and I'm not going to provide a categorical assurance in relation to that."
He said those who had provided such a categoric assurance "would have probably been wise not to have done so".
Mr Flynn went on to say there is a "direct correlation between the availability of Short money and the employment of staff" by the Westminster group.
During a speech to the IFG, he said many Conservatives wanted to see parts of devolution reversed.
He said Lord Frost's recent comments "let the mask slip" which "should worry all of us who want to defend Scotland's democratically elected parliament".
The police investigation into the SNP's funding and finances led to the arrest of its former chief executive Peter Murrell – Nicola Sturgeon's husband – and treasurer Colin Beattie earlier this month.
Both men were later released without charge pending further inquiries and Mr Beattie stepped down as SNP treasurer.