Public services could become "collateral damage" in Northern Ireland's political stalemate, an ex-senior civil servant has warned.
Former head of the region's civil service Sir David Sterling said the levels of cuts expected to be asked for are undeliverable and warned of potentially irreversible damage.
He also argued that a hard budget is being used to try to coax the restoration of the Stormont Assembly.
While the departments of health and education are set to see their budgets protected, others are expected to make cuts of up to 10%.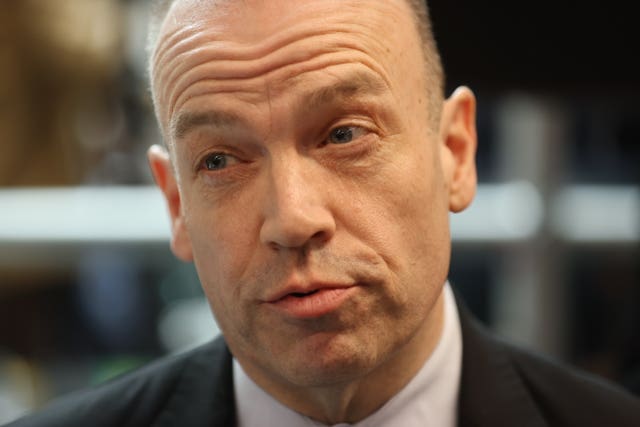 The DUP is refusing to take part in the Assembly and Executive until their concerns around the Northern Ireland Protocol are addressed by the UK government.
In the absence of ministers, civil servants have been running departments with limited powers.
Sir David said Mr Heaton-Harris is expected to produce a budget this week before the local government election campaign starts on April 27.
"My understanding is that the civil service are expecting that the Secretary of State will simply announce allocations at departmental level so he will not specify where any cuts are to fall," he told BBC Northern Ireland's Sunday Politics programme.
"We know that there is a measure of protection being afforded to the big budgets in health and education, but even they will be expected to absorb some cuts, but the other departments will probably be having to absorb cuts of more than 10%, and if you take into account we have 10% inflation, in real terms it's significantly more than that."
It has been reported that government would like revenue-raising measures to be considered, such as water charges, the reintroduction of prescription charges, raising tuition fees and ending free public transport for pensioners.
Sir David said the situation is "fundamentally undemocratic" and "fundamentally unconstitutional".
"I am fairly sure that the civil servants in departments will be looking for some cover from the Secretary of State over where cuts should fall because civil servants should not be determining where cuts to public services should occur. That's a decision that should be for politicians," he said.
Sir David said he understands that pressure to spread the repayment of a £300 million loan for a shortfall last year has not been heeded by the Treasury.
"That is the sort of thing that politicians probably would be able to secure reasonably easily, but it's not being granted at the moment, so in a sense I think public services and departments are collateral damage in the struggle the government is having to get the institutions up and running again," he said.
He warned that the situation is "the worst that it has been".
"The level of cuts that are being sought are just undeliverable," he added.
"There are public service bodies, there are charities all over the place now who are having to plan to lay people off, capacity will be lost, irreversible damage will be done in a whole range of organisations – if not irreversible, will take a very long time to recover.
"I think there is no doubt a hard budget is being used to try and leverage the parties back into government. I suspect there will be some easing of the financial pressures if there is a resumption of the institutions, but the reality is the time this is taking is causing that real damage, and damage which will take a long time to repair."