The Home Secretary has announced a number of amendments to the Illegal Migration Bill as she looks to make it harder for domestic and international courts to block deportations.
Suella Braverman said the changes she was proposing to her controversial legislation, which is designed to curb small boats of migrants from crossing the English Channel, would help prevent "last-minute, bogus claims".
The headline amendments laid on Friday are being seen as an attempt to appease right-leaning Conservative backbenchers who were calling for greater protections against interference by judges, including the European Court of Human Rights, in how the UK polices its border.
Officials said that if the person arriving via an unauthorised route was not at risk of death, persecution, torture or degrading treatment by being deported, then any appeals would be heard remotely after the person had been removed from the UK.
Another proposed change will allow ministers to "exercise discretion in relation to interim measures issued by the European Court of Human Rights".
According to Ms Braverman's department, there will be set principles under which ministers would be able to decide whether or not to comply with European judges.
Alongside pushing forward with the amendment, ministers are having "constructive discussions regarding reform to the Rule 39 process in Strasbourg", the Home Office said.
A Rule 39 order was used to block the inaugural deportation flight taking asylum seekers to Rwanda.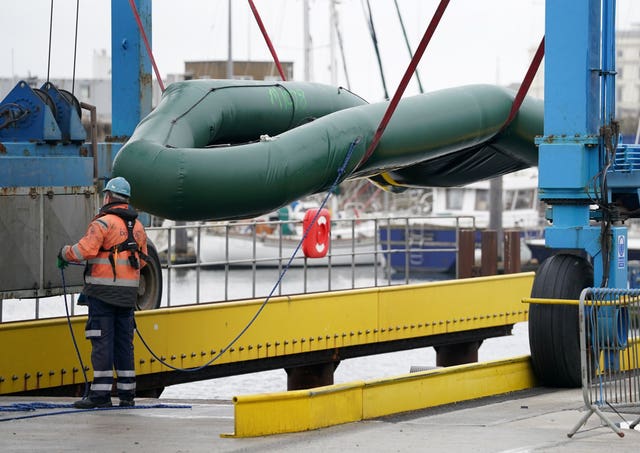 An annual cap on people coming via such routes will also be agreed through Parliament.
Ms Braverman said: "The British public are rightly fed up with people coming to the UK through dangerous small boat crossings, and myself and the Prime Minister are absolutely committed to stopping the boats once and for all.
"The changes I am announcing today will help secure our borders and make it easier for us to remove people by preventing them from making last-minute, bogus claims, while ensuring we strengthen our safe and legal routes.
"My focus remains on ensuring this landmark piece of legislation does what it is intended to do, and we now must work to pass it through Parliament as soon as possible so we can stop the boats."
Further amendments proposed include giving immigration officers new powers to search for and seize electronic devices, such as mobile phones,  from those arriving unlawfully to help assess whether someone has the right to be in the UK.
The Home Office also intends to bring in new regulations that will see age-disputed people treated as an adult if they refuse to undergo a scientific age assessment.
The call for the use of age assessments, designed to prevent adults posing as children, has reportedly been called for by right-wing Tory MPs.