The Archbishop of Canterbury has urged Britons to volunteer over the coronation weekend and believes many who do so will become "addicted" to service.
Justin Welby made the remarks on a visit to The Passage homelessness charity in central London on Wednesday to encourage people to join in the Big Help Out volunteering project.
He was joined by Chief Rabbi Ephraim Mirvis and leading figures from the Muslim, Hindu, Sikh and Buddhist communities.
The Big Help Out will take place on Monday May 8, a bank holiday, and aims to inspire and recruit a new generation of volunteers by showing how easy it is to get involved.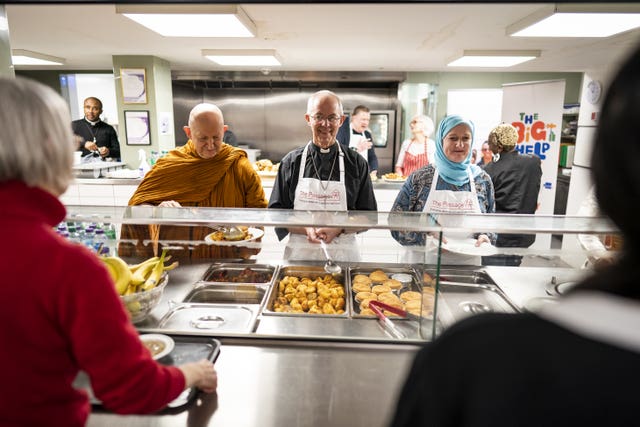 The faith leaders joked with volunteers and staff as they sorted clothes before serving up mushroom soup, a roast chicken lunch and vegetable pie for people in need.
Mr Welby teased volunteers about whether he fitted into a medium pair of shorts or needed a large one and later quipped that people "survive" his cooking as he chopped vegetables.
He later said: "The whole theme of the coronation is service. It is looking back on our traditions; it's looking at where we are as a country today and it's looking forward and building hope for the future.
"Twelve million people volunteered during Covid and it is still a much higher number than it has been historically.
"I would say to people give it a go on one day, I think you'll find you get addicted to volunteering and serving, and that is going to make this country much better.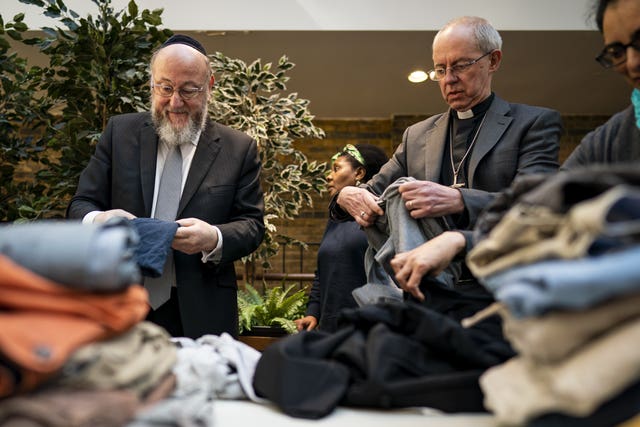 "It's an expression of joy, love and celebration."
The King also received praise for his commitment to charity work.
Mr Mirvis told the PA news agency: "The King is a wonderful exemplar of someone who wants to champion volunteering and selflessness.
"My hope for the Big Help Out is that there will be additional interest in volunteering and selflessness that will inspire people to do good for others.
"The coronation is not just an event that will take place over an hour or so, it will take place over a weekend.
Brendan Cox, co-founder of the Together Coalition, which is organising the Big Help Out, told PA: "Both the King and the Queen have got a long record of volunteering themselves and supporting volunteering organisations.
"I think the reason they wanted this to be core to their coronation was because they see it as central to stronger communities, a stronger country, a more connected way of living with each other."
Volunteer Wendy Orr, 75, who helped sort clothes with the faith leaders and has helped out there for more than a decade, told PA: "It has been lovely to see them. They were very humorous and very conscientious.
"The Archbishop wanted to check the sizes of shorts, was he a large or was he a medium?
"I think the King's support for the Big Help Out is very typical of him."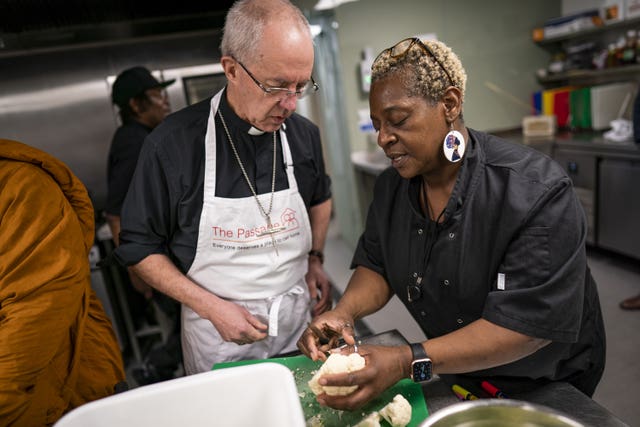 "The Big Help Out is a great initiative and I hope it will inspire more people to get involved in volunteering.
"The King has been involved in so many initiatives it is clearly something he and his family do.
"William comes here as a patron. He is very unassuming and very interested in the clients, their needs and how they are getting along."
Head chef Claudette Dawkins said she was "impressed" with the faith leaders' cooking skills and said William has visited the charity "lots of times".
She added: "I have seen him unofficially, he came here during the second lockdown.
"We pre-judge, you only know what you see in the papers and on the TV. It is like a performance they have to do.
"I have seen him outside of that and he is just a normal human being like the rest of us."
The Prince of Wales is a patron of The Passage and often made surprise visits there during the pandemic.
It was founded in 1980 and serves a hot breakfast and lunch to between 90 and 100 people every weekday.