Prime Minister Rishi Sunak has been pressed during a visit to Belfast on a controversial government Bill to deal with the legacy of Northern Ireland's troubled past.
The Bill proposes an effective amnesty for Troubles crimes in exchange for co-operation with a new truth recovery body, as well as ending future court processes.
It has been almost universally opposed by political parties across the UK and Ireland.
Mr Sunak was criticised by Amnesty International for not mentioning Troubles victims in his speech at a major conference marking the 25th anniversary of the Belfast/Good Friday Agreement.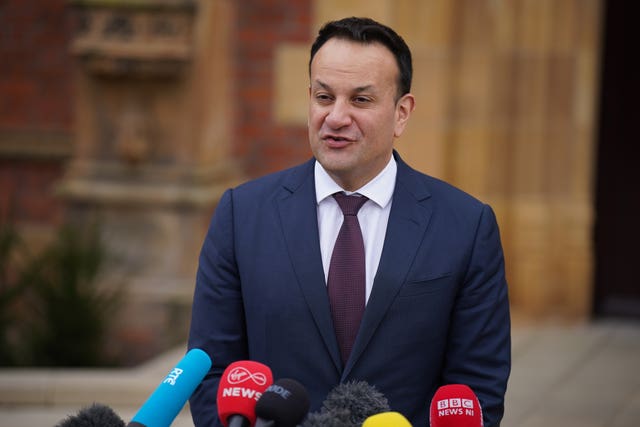 Mr Varadkar said opposition to the Bill is rare in that it has united the main political parties in Northern Ireland.
He said it is his government's strong view that the Bill should be withdrawn – and if not withdrawn at least amended until it has the support of the majority of people in Northern Ireland.
"Prosperity comes when peace thrives; the ongoing process of reconciliation requires conflict related violations to be addressed," she said.
"The total absence from Sunak's speech of Troubles victims was a missed opportunity to show he is listening to them and the opposition to his Government's Troubles Bill.
"The Prime Minister must take the opportunity of this milestone anniversary to drop the Troubles Bill and other legislation which directly undermines the agreement."