A former police detention officer who posted "racist content" and images showing apparent support of gun-wielding members of a Northern Ireland paramilitary group has been given a community order.
William Lloyd-Hughes, 27, from Huddersfield, West Yorkshire, was handed an 18-month community order with two requirements at Westminster Magistrates' Court in London on Wednesday.
He previously pleaded guilty at the same court to publishing an image of two flags on September 11 2022 "in such a way or in such circumstances as to arouse reasonable suspicion" that he was a "member or supporter" of the banned loyalist Ulster Defence Association (UDA) terror group.
On Wednesday, prosecutor Gillian Curl said the image in question was a montage of four photographs, published as a tweet, depicting people in black balaclavas and military-style clothing brandishing firearms.
In two of the photos, the gunmen are posing in front of UDA flags and the montage was captioned "On God's land where the PRODS stand", Ms Curl added.
"Prods" is a term for a Protestant sometimes used in Northern Ireland, which in this context appeared to imply support for the proscribed paramilitary group, the court heard.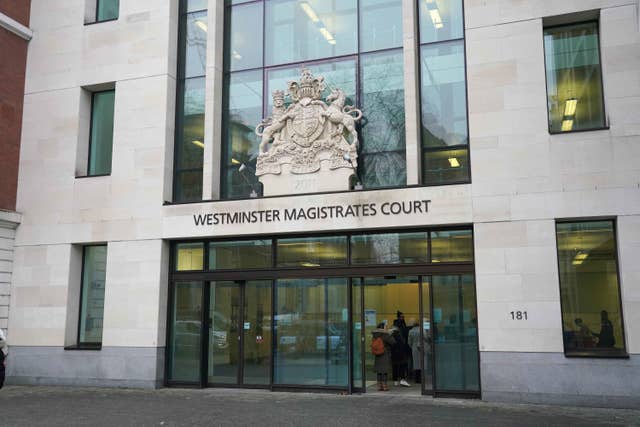 These "very offensive" tweets were "racist in their content and tone", Ms Curl said.
The full details of the offence was not read out in court but the judge described the posts as "abhorrent" and "racist".
Ms Curl added: "To Mr Lloyd-Hughes' credit, he made a prepared statement when he was arrested and interviewed in which he immediately expressed remorse."
Lloyd-Hughes, of Crosland Moor, told police he had limited knowledge of the history of sectarian conflict in Northern Ireland and did not intend to post something that supported a banned terrorist organisation.
Lloyd Hughes, who was wearing a light blue shirt and dark tie and trousers, also told officers in December that the racist Twitter posts did not reflect his actual views, court documents show.
He "has an interest in the military" but did not realise they were UDA flags were when he posted the image, the court heard.
Lloyd-Hughes, who is degree-educated, was employed by West Yorkshire Police as a detention officer from February 2022 until he resigned in February this year after the criminal probe and an investigation by the Independent Office for Police Conduct (IOPC) watchdog were launched.
The defendant, who is of previous good character, is now working in a kitchen at a local restaurant, the court heard.
Passing a concurrent community order sentence for the two offences, Chief Magistrate Paul Goldspring also imposed a 40-day rehabilitation requirement and said Lloyd-Hughes must complete 100 hours of unpaid work.
He must also pay a surcharge and prosecutions costs totalling £199 within seven days.
The IOPC has said the charges followed an investigation it directed, carried out by Counter Terrorism Policing North East, into the messages after a mandatory referral from the West Yorkshire force last September.