An ad for gambling firm BetVictor has been banned for featuring two footballers popular with under 18-year-olds.
The paid-for Facebook ad, seen in January, featured an image of Jordi Alba and Sergio Busquets playing for FC Barcelona with the text: "Who is the most underrated player at the club you support?"
The BetVictor logo and text "BetVictor" featured in the top corner of the ad.
The Advertising Standards Authority (ASA) investigated whether the ad included individuals who were likely to have strong appeal to under-18s and therefore breached advertising regulations.
BV Gaming, trading as BetVictor, said it did not consider that Alba and Busquets fell into the category of "high risk", and specifically that they were not well-known stars like Lionel Messi, Kylian Mbappe, Xavi, Sadio Mane, Cristiano Ronaldo or Karim Benzema.
Neither player had a high-value, personal sponsorship deal with any major brand known in the UK, and they did not have a strong social media profile with those aged under 18, the firm argued.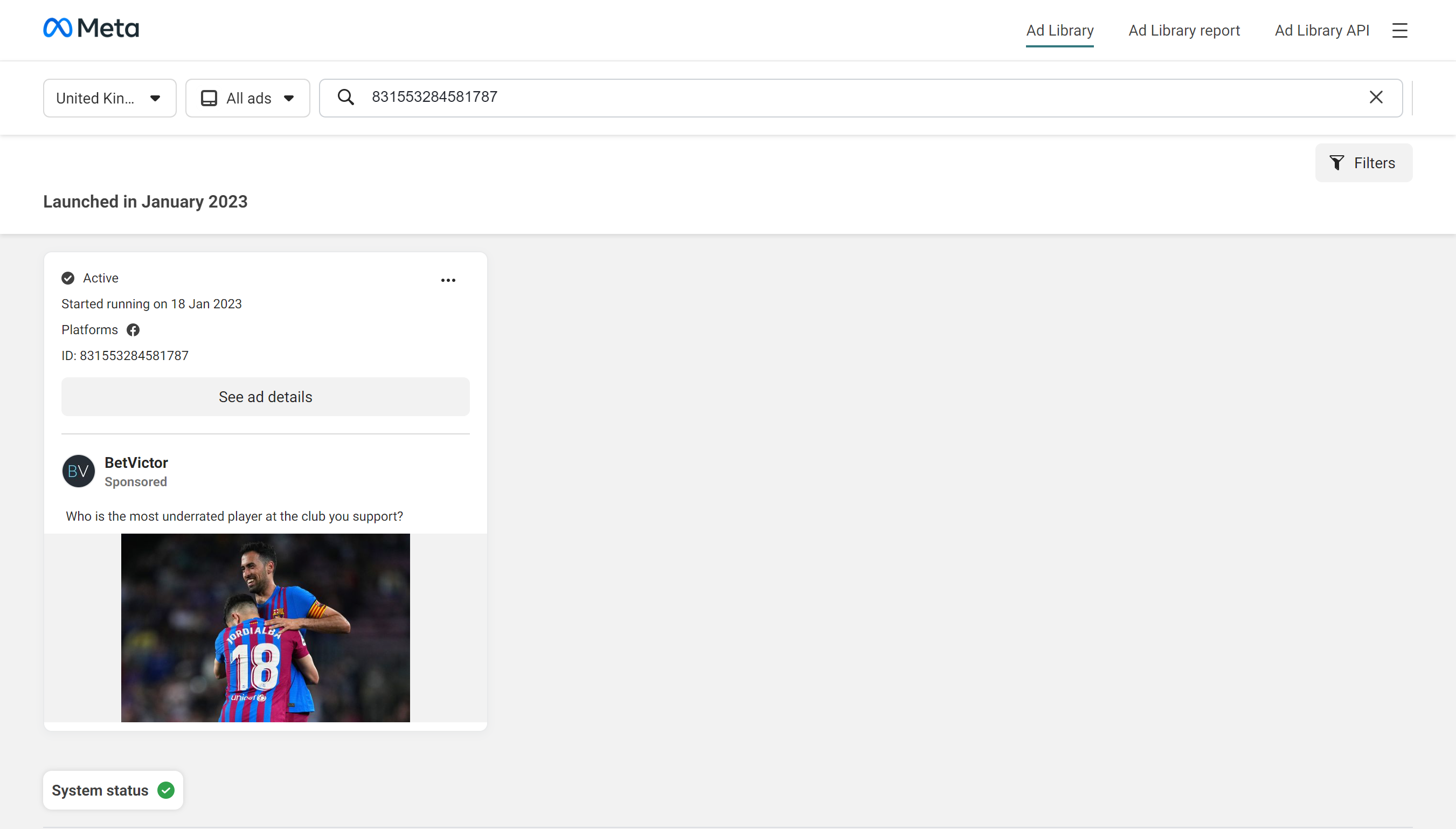 Alba has been a player at FC Barcelona since 2012 and has won 16 major honours including 10 Spanish trophies as well as one Uefa Champions League title, while Busquets has made nearly 700 appearances for FC Barcelona where he is the current captain and ranks third in terms of most appearances in Barcelona's history.
The ASA said: "For those reasons we considered that they were 'star' players who had a high profile at a top European club and would be considered 'high-risk' according to CAP guidance and, therefore, were likely to be of strong appeal to under-18s."
It added: "Because Facebook was a media environment where users self-verified on customer sign up, and did not use robust age verification, we considered that BetVictor had not excluded under-18s from the audience with the highest level of accuracy required for ads the content of which was likely to appeal strongly to under-18s.
"For those reasons, we concluded the ad was irresponsible and breached the code."
The ASA ruled that the ad must not appear again in its current form, adding: "We told BetVictor not to include a person or character who had strong appeal to those under 18 years of age."
BetVictor said: "Whilst disappointed, we note the decision and will be complying with it."