The decision to grant former Sinn Fein president Gerry Adams a visa to visit the United States was to "get everybody involved", former US president Bill Clinton has said.
There was criticism after Mr Clinton granted the visa in 1994, at a time when the IRA – which Sinn Fein was linked to – had an on-again, off-again ceasefire.
The former president talked about his decision during a panel discussion event as part of a conference to mark the 25th anniversary of the Belfast/Good Friday Agreement at Queen's University Belfast.
Mr Clinton said he granted a visa to Mr Adams but said there must be no fundraising during his visit.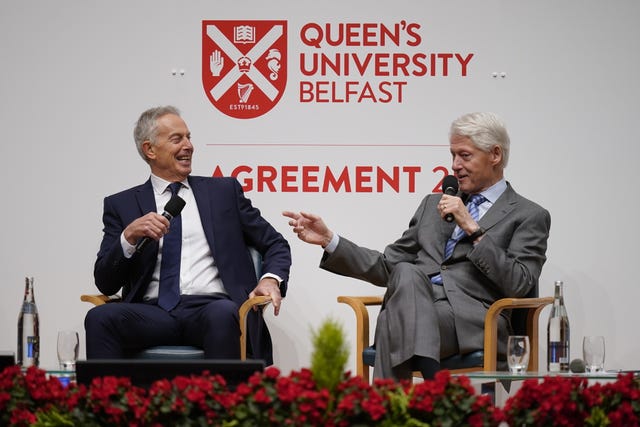 "Everybody knew that a lot of money was going into Ireland from the north-east United States especially – but not on this trip, we were going to send a signal that we wanted to be involved but we wanted to be positive and we wanted to be fair to everybody."
Mr Clinton added: "At the time it was crazy they thought, but I thought it made all the sense in the world because what we were doing was not working and it seemed to me just from the talk that the public was maybe way ahead of the politicians in their desire to have some sort of resolution to this.
"So I gave Gerry the visa and he kept his word as he always did in dealing with me and the rest is history."
Meanwhile former prime minister Sir Tony Blair recalled his first meeting with Mr Adams, and how he was confronted with a protest of people wearing rubber gloves afterwards.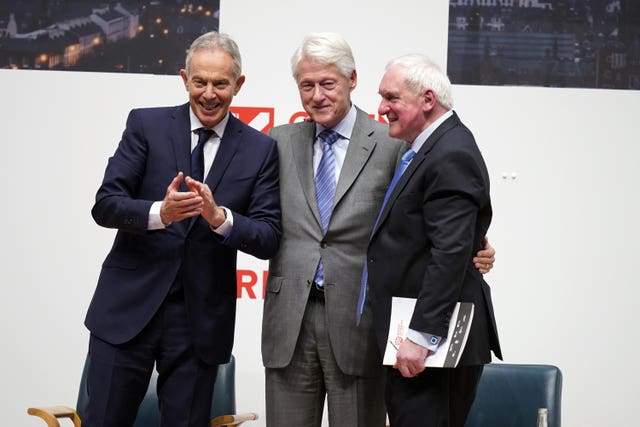 "It was all to do with the fact I shouldn't have been shaking hands with Gerry Adams because this was a big thing, there was a huge debate – yes you can meet him but you can't shake hands with him, I said 'we're going to meet him and we're going to shake hands, let's just do what you would do, one human being to another … we know we disagree about the past but let's see if we can agree about the future'."
He said then-secretary of state Mo Mowlam then visited the loyalist prisoners in the Maze.
"All of these things were difficult, I don't think anything could have happened unless we were prepared to sit down and to talk to people, and to understand these conflicts come about because there are two distinct narratives in opposition to each other, and the only way you will ever make peace is if one side understands how the other side feel," Sir Tony said.
"They don't have to agree with it, they don't even have to sympathise with it, but at least they have to understand it."