A youth has been found guilty of stabbing a 15-year-old boy to death in a park in front of his terrified friends.
Zaian Aimable-Lina suffered a 4.7in (12cm) deep stab wound to the heart during the attack in Ashburton Park in Croydon, south London, on the evening of December 30, 2021.
A 17-year-old, who cannot be identified because of his age, was found guilty of murder and possessing a blade after an Old Bailey jury deliberated for two hours on Friday.
Previously, prosecutor Jacob Hallam KC told the jury that a passing police car had been flagged down by Zaian's distressed friends at about 7pm on the night of the attack.
Officers were led by the "frightened and panicked" teenagers to where Zaian lay in the park.
Despite the efforts of members of the ambulance service, he was pronounced dead at 7.36pm.
Two of Zaian's friends later provided eyewitness accounts of what happened, the Old Bailey was told.
Mr Hallam told jurors that the defendant had joined Zaian's group of friends to smoke cannabis in the park on that "dark, cold and windy night".
He said: "They initially sat on a bench but, because it was so windy, they headed to a derelict building in the middle of the park so that the defendant could go inside out of the wind and make and light his roll-up."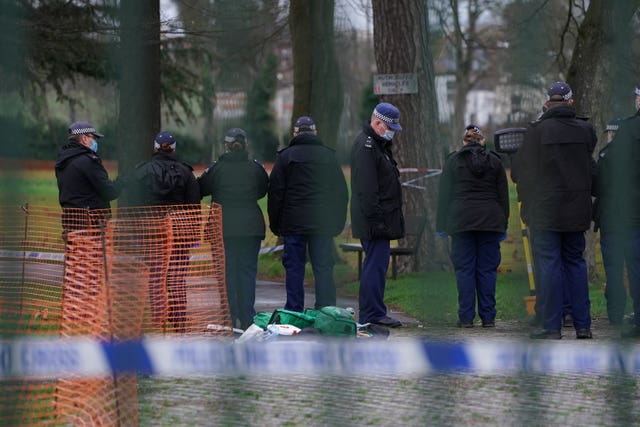 When he emerged, he approached Zaian, and asked him "Wagwan bro" before striking him.
The defendant had also asked him: "Zs, have you beef with Little P?" before pulling out a knife and stabbing him, jurors were told.
After being asked if he had a problem with someone, Zaian denied it, the court heard.
The victim turned and ran but was chased by the defendant through the park.
He was found by his friends, lying on the ground with three stab wounds.
Mr Hallam said: "They tried to do their best for him, a group of frightened, panicked teenagers, calling for help and flagging down the emergency services."
The prosecutor told jurors that Zaian had suffered three "significant" knife wounds – one to the left elbow which nicked the bone, a 1.6in (4cm) deep wound to the lower back, and an injury to the chest.
The stab wound to the chest was 4.7in (12cm) deep and punctured Zaian's lung and heart, causing "massive blood loss", he said.
The defendant, who was 15 at the time, had denied being responsible for the killing.
Following the guilty verdict, Judge Alexia Durran adjourned sentencing until May 26 and remanded the youth into custody.