A selection of rare objects by Charles Rennie Mackintosh will be sold at auction next week.
A bedside cabinet commissioned by Mackintosh's client Catherine Cranston in 1904 for her Hous'hill home is one of the 456 lots, and auctioneers have said it could fetch between £30,000 and £50,000.
Glasgow entrepreneur Miss Cranston had already commissioned Mackintosh to design her famous tea rooms in the city, including the renowned Willow Tea Rooms which opened in 1904, when she tasked him to redecorate the mansion.
The item will be part of Lyon & Turnbull's design since 1860 sale on Wednesday.
John Mackie, a director at the Edinburgh-based auction house and a specialist in early design, said the items being sold "chart significant stages in Mackintosh's artistic development", and "competitive bidding from across the world" is expected to secure them.
He added: "As one of only two cabinets created by Mackintosh for Catherine Cranston's bedroom, it's a rare and unique example of furniture which was specially made to his specifications for his patron.
"Miss Cranston was a canny operator and saw the marketing advantage in having a pioneering designer like Mackintosh involved in her business enterprises. They had a good working relationship, and he was the obvious choice for designing the interiors of her marital home."
When he was commissioned to refurbish Hous'hill, which is in Nitshill in the south of Glasgow, Mackintosh was in one of the most creative parts of his career.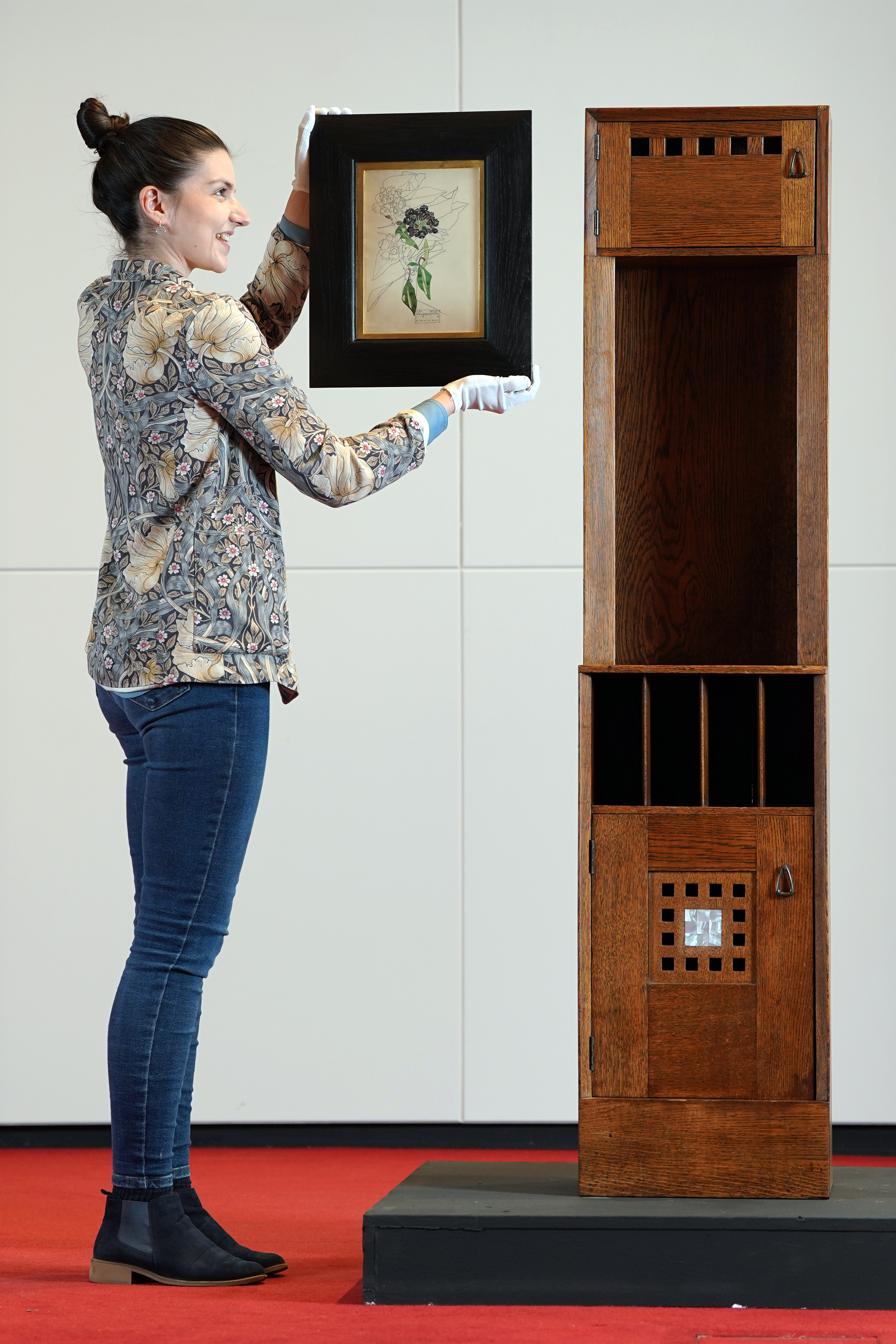 Another item in the auction will be the watercolour Ivy Seed, which was painted during Mackintosh's time in the fishing village of Walberswick on the Suffolk coast. It is also expected to fetch between £30,000 and £50,000.
He had moved there with his wife Margaret Macdonald in June 1914.
It was a time when the world was on the brink of war, Glasgow was in the grip of a recession, and Mackintosh's professional fortune had dwindled, culminating in his resignation from Honeyman, Keppie & Mackintosh, the architectural business in which he was a partner.
The couple had intended to stay just for the summer but remained there for 15 months.
They moved to London in 1916, when he embarked on a new direction as a textile designer and by 1920 had built up an impressive body of work which saw him become one of the leading figures of the period.
A textile design from his time in the capital is also being offered at the auction, which is being held in Edinburgh and online, and is estimated to fetch between £10,000 and £15,000.
Mr Mackie said: "Mackintosh was an exceptional designer who could turn his artistic hand to anything and was compelled to do so by necessity after his architectural work almost dried up completely as the war continued.
"The Mackintosh textile design in the sale is evidence of yet another artistic reinvention by one of the finest designers of the era."
There is also an original copy of the catalogue for a memorial exhibition at Glasgow's McLellan Galleries which took place after the death of Mackintosh's wife in early 1933. It is valued at £600-£800.