Joe Biden is "really buzzed up" to be in Mayo, according to a local TD who believes the visit will be a boost for Ballina town.
Mayo TD Dara Calleary was among the dignitaries who met the US president on the tarmac at Ireland West Airport Knock after Air Force One touched down on Friday afternoon.
Mr Biden is due to take part in various engagements before the final day of his first visit to Ireland as president concludes with a public address at St Muredach's Cathedral in Ballina.
The religious building has a direct link to the president's ancestors, as Mr Biden's great-great-great-grandfather Edward Blewitt sold 27,000 bricks to the cathedral in 1827, which helped buy tickets for himself and his family to sail to America decades later in 1851.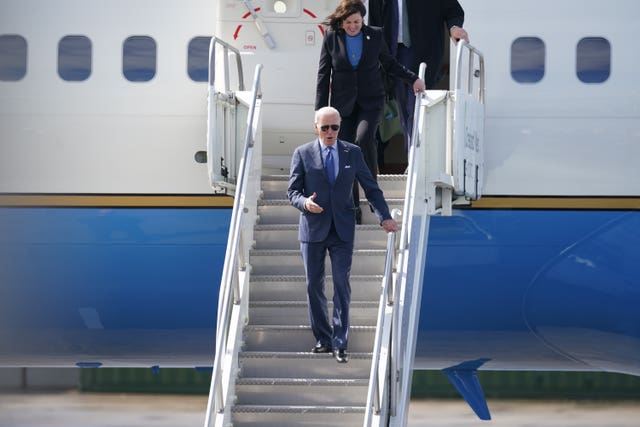 Shortly after meeting the president to welcome him to Mayo, he told the PA news agency: "This is not somebody coming looking for his roots. He knows his roots, he understands his roots and he understands the importance of those roots."
Asked how Mr Biden was, he said the president seemed "thrilled to be here".
Mr Calleary said: "He's really buzzed up about coming to Ballina, looking forward to speaking outside the cathedral and very much invested in his trip to Mayo today."
The junior minister said he believes the visit will "be a boost for Ballina" but that it is something that must be built on in the aftermath.
He said: "We'll enjoy the excitement and we'll enjoy the occasion but we all have to put our minds together as to how we build on that legacy and that work will begin next week.
After a period of cloud and even a hailstorm earlier in the afternoon, the sky was blue and the sun was shining as Mr Biden descended the steps of the aircraft, with Mr Calleary noting: "Even the weather gods are with us today as well."
He added: "I'm buzzing, I'm really proud to be from Ballina, I'm really proud to be from Mayo."