Anas Sarwar must confirm where Labour stands on support for gender recognition reforms as the First Minister launches a legal battle against the UK Government's block on the legislation, the Scottish Conservatives have said.
Scottish Labour leader Mr Sarwar whipped his MSPs to support the Gender Recognition Reform (GRR) Bill, which passed in Holyrood in December – however Carol Mochan and Claire Baker both resigned from their frontbench positions in protest.
UK Labour leader Sir Keir Starmer has since signalled that he does not support the legislation, which allows 16-year-olds to legally change their gender, and expressed concern around the implications on the Equalities Act.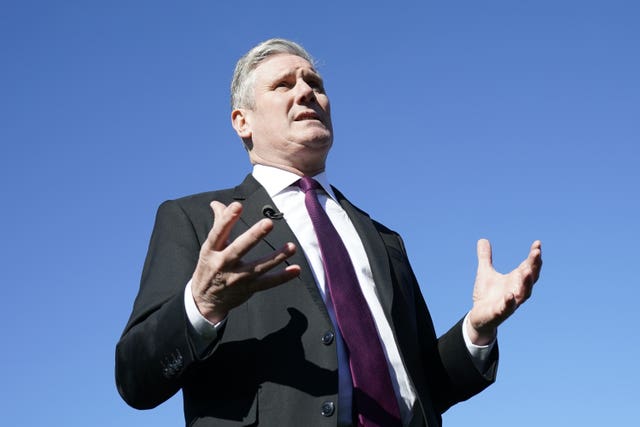 It comes as Humza Yousaf confirmed his Government is taking legal action after the legislation was blocked from gaining royal assent with a Section 35 order.
Ms Hamilton said: "With Humza Yousaf seeking a self-serving confrontation with the UK Government in an effort to divert attention from the SNP civil war, the public deserve to know where Scottish Labour stand on this issue.
"Anas Sarwar shamefully ignored the legitimate concerns of women's groups, many Labour members and the vast majority of Scots by forcing his MSPs to back Nicola Sturgeon's reckless GRR Bill.
"Whether it was a response to the public backlash in Scotland to the passing of the Bill, or the inherent flaws in it exposed by the Isla Bryson scandal, Keir Starmer belatedly recognised that Labour were on the wrong side of the argument.
"It's time for Anas Sarwar to do the same and admit that he was wrong to ignore the safety fears of women by whipping Scottish Labour MSPs to vote for this deeply flawed Bill.
"The public deserve to know whether he now accepts that 16 is too young for vulnerable adolescents to be able to make such an enormous, life-changing decision.
"Where does he stand on Humza Yousaf's weak and transparent attempt to create a constitutional row with the UK Government to try to rally feuding factions within the SNP?
"And if the Bill comes back before Holyrood, will he do what he ought to have done last time and offer his MSPs a free vote? If not, presumably Carol Mochan – who returned to his front bench this week – would have to resign a second time.
"We know Anas Sarwar would rather not discuss this issue, but the confused public deserve to know where Scottish Labour stands."
A Scottish Labour spokesperson said "This is too important an issue to be reduced to a constitutional fight or a culture war.
"The Tories are shamelessly playing politics with people's rights because they have nothing else to offer Scotland.
"Since the passing of the GRR Bill it feels like everyone has lost. Many in our trans community don't feel any more protected and many women don't feel any more reassured.
"The election of a new First Minister should have been a reset moment.
"The sensible way forward would be to ask the Equality and Human Rights Commission to issue its guidance and for both governments to commit to addressing any inconsistencies or issues that it identifies.
"There is a need to build a consensus and take the public with us going forward."