Huge queues of holidaymakers are waiting on "extremely busy roads" close to the Port of Dover amid warnings of 90-minute delays.
Cars could be seen snaking from the Kent port to the nearby town after 11am on Good Friday, with lorries thought to be stretching back further.
P&O Ferries and operator DFDS were reporting delays of between 60 and 90 minutes to the port's entrance while Irish Ferries advised people to allow up to three hours before their travel time.
Drivers have been advised to bring supplies in case they are left waiting for hours, with queues expected to lengthen in the early afternoon.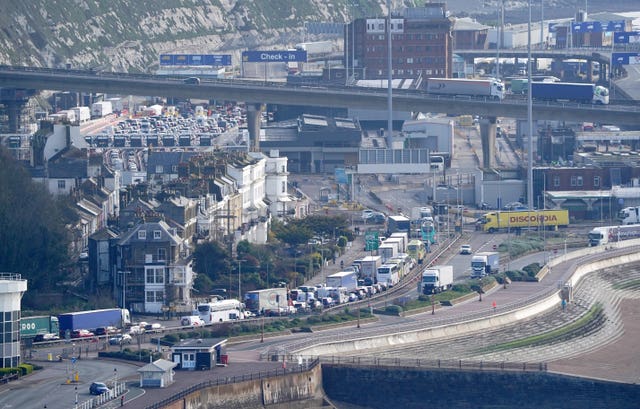 "What we did is we worked with our ferry operators to try and spread the demand across the three days rather than all on this day.
"I know that that's challenging for the coach industry because they have itineraries that they want to maintain, but they've worked with the ferry operators to be able to do that, and that's been successful.
"We've also installed a new facility to expand our processing at the borders for coaches, that's operational, I just saw one goes through in just shy of 10 minutes.
"It's going to be a busy day, we're running probably about an hour to an hour and a half to get through border controls at the moment, and we will peak through probably early afternoon, and then it will start to slow down after that."
P&O Ferries said on Twitter: "The roads in and around the Port Of Dover area are extremely busy. Please allow extra time for your journey to the port."
Meanwhile, DFDS said freight ferry queues are "slow moving".
It comes after chaotic scenes at the port last weekend when thousands of people were delayed, reportedly by up to 14 hours.
Nichola Mallon, of Logistics UK, talking about lorry drivers using the port, told Sky News: "If they're waiting considerable periods of time, that becomes a driver welfare issue and so that's why we're working very closely with the Kent resilience forum, and to make sure that we can minimise delays.
"In fact, I have a number of meetings today as we closely monitor the situation and make sure that contingency plans are in place if needed, and people are working very hard on that.
"Our message to our members would be to check with your ferry operator to make sure that you're aware of the latest guidance, make sure that you've completed all your paperwork before you head there and have supplies there, just in case, and make sure that you leave enough time to accommodate any delays."
At one point on Thursday, there were queues of "approximately 90 minutes" for passport checks by French officials at the port as the Easter rush kicked off amid "high volumes of traffic", DFDS said.
Port officials said they held an "urgent review" with ferry operators and the French authorities in an attempt to avoid a repeat of last weekend's delays.
A general strike in France in a row over pension reforms is also causing disruption.
About 400,000 people joined a protest against President Emmanuel Macron's pension reforms in Paris on Thursday, the French CGT union reportedly said.