An official inquiry concluded it was not possible to "draw a clear picture" after differing accounts from senior Tories over allegations that Nusrat Ghani's Muslim faith played a role in her sacking as a minister.
Ms Ghani had alleged that her faith had been cited as part of the reason for her losing a ministerial position in 2020.
She had claimed Mark Spencer said her "Muslimness" was linked to her losing her ministerial position when the two served in Boris Johnson's government.
– What are the allegations?
Ms Ghani had served as a transport minister since 2018, but was sacked in a mini-reshuffle in February 2020.
She said: "I was told that at the reshuffle meeting in Downing Street that 'Muslimness' was raised as an 'issue', that my 'Muslim women minister' status was making colleagues uncomfortable, and that there were concerns 'that I wasn't loyal to the party as I didn't do enough to defend the party against Islamophobia allegations'.
"It was very clear to me that the whips and No 10 were holding me to a higher threshold of loyalty than others because of my background and faith.
"In the following weeks, I was informed that if I persisted in raising this that I would be ostracised by colleagues and my career and reputation would be destroyed."
She also told the paper: "It was like being punched in the stomach. I felt humiliated and powerless."
– When were the claims made public?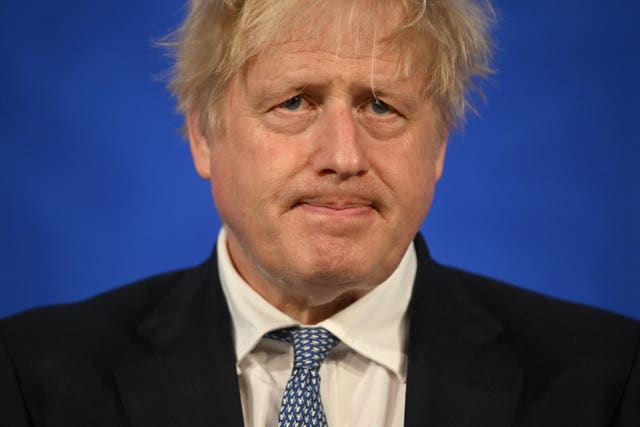 At the time, Boris Johnson was prime minister and Mr Spencer was chief whip.
The row erupted at the start of a crucial week for Mr Johnson, when Sue Gray, the senior civil servant investigating lockdown parties in Downing Street, was expected to deliver her report.
The conduct of the whips' office was coming under scrutiny at the time following claims that tactics amounting to blackmail were used to pressurise Tory MPs seeking to oust Mr Johnson.
– How did Mr Spencer react to the allegations?
He said: "To ensure other Whips are not drawn into this matter, I am identifying myself as the person Nusrat Ghani MP has made claims about this evening.
"These accusations are completely false and I consider them to be defamatory. I have never used those words attributed to me."
Mr Spencer added: "It is disappointing that when this issue was raised before Ms Ghani declined to refer the matter to the Conservative Party for a formal investigation."
He said the claims relate to a meeting in March 2020.
"When Ms Ghani raised them she was invited to use the formal CCHQ complaints procedure. She declined to do so," Mr Spencer tweeted.
– What did the Government do next?
On Monday January 24 2022 the then prime minister ordered an inquiry, with Mr Johnson having spoken to Ms Ghani the night before.
A No 10 spokeswoman insisted that when the allegations were first made the prime minister recommended Ms Ghani make a formal complaint to Conservative Campaign Headquarters, but that "she did not take up this offer".
The spokeswoman said Mr Johnson was taking the claims "very seriously".
During a mini-reshuffle in February 2022, Mr Spencer was moved from his role as chief whip to leader of the House of Commons.
– Why has the inquiry taken so long?
The investigation was originally being carried out by Mr Johnson's ethics adviser, Lord Geidt, who later quit the role because the then prime minister refused to accept his advice.
Sir Laurie Magnus took on the investigation after he was appointed ethics adviser to Prime Minister Rishi Sunak.
Sir Laurie was appointed on December 22 2022, about two months after Mr Sunak took office. His final report acknowledges the investigation was "delayed" by Lord Geidt's resignation in June 2022.
Ms Ghani returned to government when Mr Sunak became Prime Minister as a business minister.
After a stint as Commons leader, Mr Spencer was moved to the Department for Environment, Food and Rural Affairs, where his brief includes food, farming and fisheries.
– What did the inquiry find?
Sir Laurie's report said: "Despite a review of considerable evidence, it has not been possible to draw a clear picture of what was discussed between Mr Spencer and Ms Ghani during two meetings which both agree took place on 4th and 23rd March 2020.
"These discussions are central to the allegations made.
"Ms Ghani and Mr Spencer have differing accounts of these meetings, with different recollections of what was said.
"Each has provided evidence (including some contemporaneous notes) to support their respective accounts, but given the differing evidence presented to me, I am not able to conclude with sufficient confidence what was or was not said at these two meetings."
He added: "It is clear that both Ms Ghani and Mr Spencer have firm but very different recollections of their two meetings during March 2020 and both have offered evidence to support their respective accounts.
"I have concluded, in the light of this conflicting evidence, that it is not possible to determine what transpired in the two meetings, particularly the first meeting on 4th March 2020 which was not independently witnessed."
Sir Laurie also said: "My overall conclusion from this investigation is that what should have been an open and trusting conversation between colleagues instead became a significant disagreement… I do not believe, when considered with the inconclusive evidence from the first two parts of this investigation, that the shortcomings identified in Mr Spencer's response to Ms Ghani's concerns amount to a clear failure to meet the standards set out in the ministerial code."
He added: "Both Ms Ghani and Mr Spencer consider each other to be mistaken in their recollections and both remain aggrieved and personally affected by the impact of this public disagreement."
– What did the Prime Minister say?
In a letter responding to Sir Laurie's findings, Mr Sunak said: "I am glad that you have examined this dispute so thoroughly. I take seriously the need to treat others with respect and to avoid any suggestion of prejudice. As you say, this has been an unsatisfactory experience for both ministers involved.
"But in the absence of clear evidence, it would not be right to take further action.
"I have spoken to both ministers and encouraged them to heed your advice to pull together in the finest tradition of public service. I am determined that the Government operates with integrity, professionalism and accountability.
"For that reason, I will be carefully considering your suggestions as to how we can better support ministers as they leave Government."