Victims of the infected blood scandal have said the extension of their compensation scheme is a "light at the end of the tunnel" after living through a "horror film" for the past 40 years.
Survivors have welcomed a recommendation by Infected Blood Inquiry chair Sir Brian Langstaff to extend reparations to bereaved parents and children, rather than victims and widowers only, and people infected with hepatitis B.
Some of these victims attended the release of the interim report at Aldwych House in central London on Wednesday, where they heard a video message from Sir Brian.
Michelle Tolley, from Norfolk, who has been living with hepatitis C and cirrhosis for 25 years and runs a support group for 500 people, broke down in tears after watching.
The 57-year-old mother of four, who was infected during a blood transfusion after giving birth, said that "no compensation will ever make up for this" but she was "pleased" that more people would receive financial support.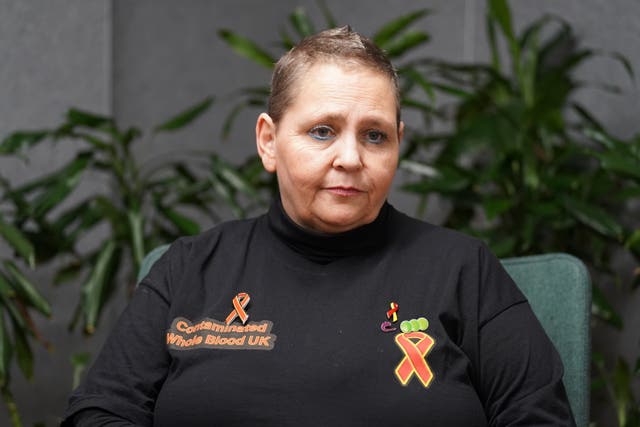 "I'm tired of fighting, I'm tired of campaigning. I'll probably have to sleep for three days to recover from this.
"I'm so pleased that the parents and the children and the hepatitis B victims are now included in the compensation.
"It's been a long time coming – four decades is a hell of a long time. We've been living through a horror film, but it's a traumatic reality."
Ms Tolley said she lives in constant fear that she will be diagnosed with liver cancer, adding that she cried at her daughter's wedding in October because she had not believed she would still be alive to see it.
"Westminster has got blood on its hands," she said.
"They should have stopped this when they first knew it was happening. The Government needs to take action on the latest recommendations now."
Mr Webster said dealing with the stigma of having "full-blown Aids" in his 30s was "horrendous" and he had to quit his job as his illness worsened – but he could now see "light at the end of the tunnel".
He told PA: "Ade and myself went to a school where over 70 people died – our friends that we went to school with – we went there from the age of 10 up until 18 and then we started losing people, so it's been awful.
"But thankfully today, we can see a light at the end of the tunnel. It's all we could have asked for, the report today – I don't think it's left anything out.
"Hopefully the Government will stick to these recommendations. We hope that the Government doesn't water it down.
"I think it's about time that they do step up to the mark and sort this devastation out."
He told PA: "We have found our faith in each other, the camaraderie in campaigning, and trying to achieve the answers and justice that we so rightly deserve. And today, we feel that Sir Brian has come forward with that."
Mr Goodyear added that it is "extremely" important that the Government put the recommendations into practice.
"All the families were wronged and that has to be put right, and the financial package put down by Sir Brian today goes some way to righting that wrong," he said.
"We can't bring anyone back, and we can't bring our health and lives back, but what we can do is recognise that through financial support and psychological support – because it has been an immensely long psychological battle for so many people, people were sent to die behind closed doors from HIV and Aids and they did – so for them we carry them, we carry them all."
Mr Goodyear also welcomed another recommendation made on Wednesday about launching a "bespoke" psychological support service in England for victims and their loved ones.
When asked whether this was something which had been lacking for victims, he said: "Yes.
"It wasn't until the last five or six years that I received counselling.
"We did 30 years odd with no counselling at all, or what there was available was very short-lived."