The King stood shoulder to shoulder with Germany's President in a symbol of reconciliation as they laid wreaths in remembrance of the victims of war.
In the ruins of a bombed out Hamburg church, destroyed like much of the city by Second World War Allied raids, the King and German President Frank-Walter Steinmeier stood motionless after leaving floral tributes.
St Nikolai Memorial Church's towering spire was a landmark used by bomber crews as they targeted the city port 80 years ago and has now become a monument against war.
Coventry Cathedral was also left a shattered ruin after a Second World War bombing raid by the Nazis and Lutheran Bishop Kirsten Fehrs read the famous Coventry Litany of Reconciliation.
Before reading the poignant words, she told those gathered that "at this special place of remembrance", where 80 years ago the church was destroyed by bombs, "we stand in solidarity with people throughout the world who strive for reconciliation in the face of violence and war; (we are) deeply grateful for this moment of unity.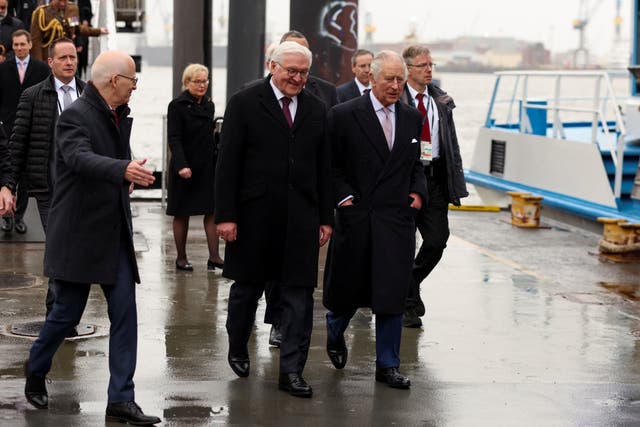 Reading from the Litany, she criticised "the hatred which divides nations from nation, race from race, class from class.
"The covetous desires of people and nations to possess what is not their own."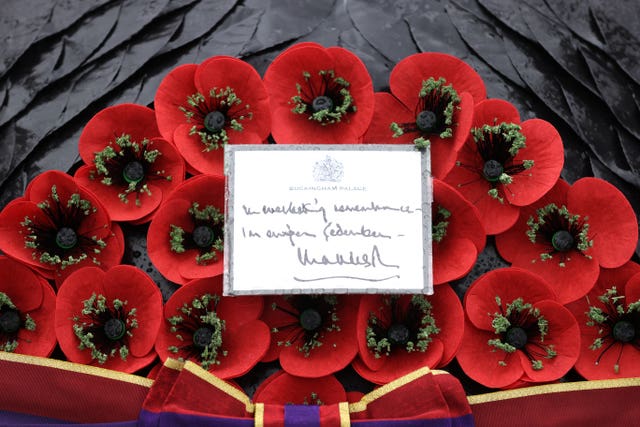 The King's wreath of poppies featured a handwritten card with the poignant message: "In everlasting remembrance" with the same words in German below and the signature "Charles R".
Camilla left her own tribute a single white rose and was dressed in an Anna Valentine coat and dress and a Queen Victoria brooch – a wedding gift from Prince Albert.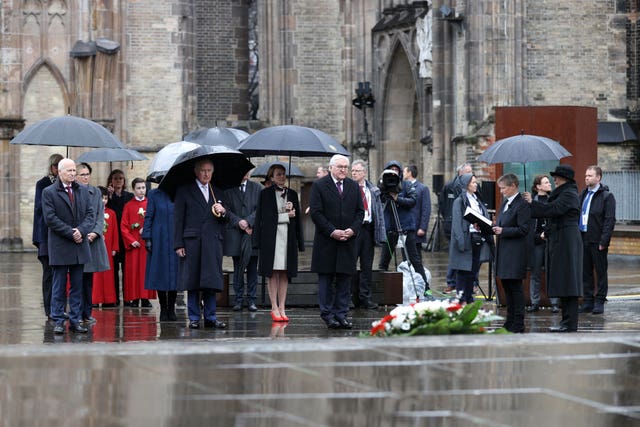 Earlier Charles and Camilla remembered the thousands of children rescued from Hitler's Nazi regime when the Queen Consort laid a rose at the "Kindertransport – the Final Parting" memorial statue.
On the last day of their historic state visit, the couple had taken the train from Berlin to Hamburg and travelled the short distance to the monument, which recognises the children transported to safety, including 10,000 sent to the UK.
The King ended his state visit to Germany with a pint as he celebrated UK ties with the country.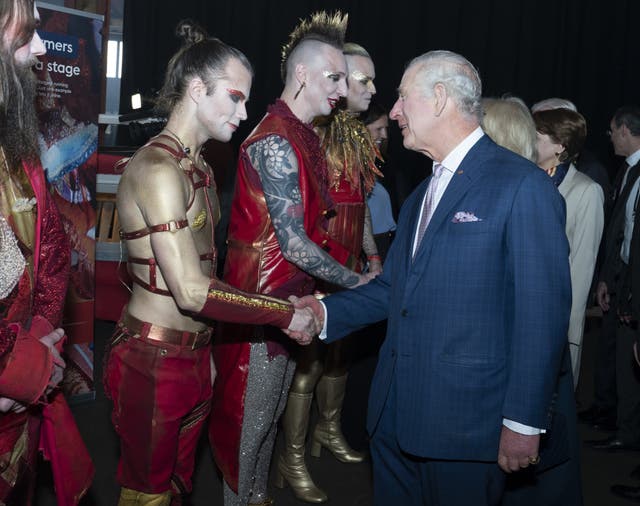 Lord of the Lost, an industrial metal band from Hamburg, formed by singer and frontman Chris Harms, will represent Germany with the song Blood & Glitter.
The King shook hands with the group who sported a classic glamrock look, with mohican haircuts, tattoos and make-up and body paint.
Around 1,200 guests, from business leaders who invest in UK charities to British companies selling produce in Germany, were invited and they watched as the King pulled and sipped a pint when he toured some of the food and drink stalls.
Hamburg has a strong association with The Beatles, who cut their performing teeth in the city during the early 1960s, and covers band Silver Spoons played the group's song I Saw Her Standing There for the royals.