Environment Secretary Therese Coffey has faced calls to resign over the amount of sewage water companies have discharged into UK waterways, as opposition parties hit out at the Government.
Labour accused the Government of "turning Britain's waterways into an open sewer", as figures published by the Environment Agency (EA) showed 301,091 spills in 2022 in England – an average of 824 per day.
This is a 19% decrease from the previous year – but John Leyland, the EA's executive director said this was "down to dry weather, not water company action".
Labour leader Sir Keir Starmer told The Guardian that the dumping of sewage was "ruining so many areas of our country and the Conservatives are sitting on their hands, with no response to it".
He told the paper that Labour would take "real action" to tackle the issue, including automatic fines for sewage dumped by companies.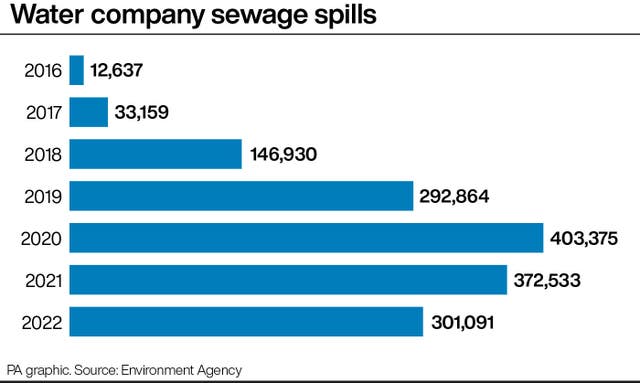 "They failed to monitor water quality when they were in Government, and they propose forcing the taxpayer and households to pick up the bill for polluting water companies."
Lib Dem leader Ed Davey also accused Ms Coffey of presiding over a "national scandal", saying she should "now resign or be sacked".
He said: "These figures are a damning verdict on the Government's failure to protect our treasured rivers and lakes. This is a national scandal and it is happening on the Conservatives' watch.
"A historic drought is no excuse for this Government's inaction and failure. The environment secretary has let water companies get away with these environmental crimes for far too long.
"It is clear she simply doesn't care enough to get tough on these polluting firms.
"Therese Coffey must now resign or be sacked so we can have an environment secretary who actually cares about saving our rivers from destruction.
"If the Prime Minister fails to take action now, we will hold him personally to account for killing our rivers and wildlife."
The Government said it is pushing the water companies to invest more in updating its infrastructure to reduce the number of spills.
They said increasing monitoring of storm overflows from 7% in 2010 to 91% last year has made the problem clearer and easier to deal with.
Water minister Rebecca Pow said: "We have set the strictest targets ever on water companies to reduce sewage discharges and are requiring them to deliver the largest infrastructure programme in their history – an estimated £56 billion in capital investment over the next 25 years – driving more improvements.
"This is the game-changing action that will make the difference we need."
The EA said sewage accounts for 7% of waterbodies failing to reach good ecological status.
Ali Morse, water policy manager at The Wildlife Trusts, said: "While some spills happen because of disrepair, which must be urgently fixed, many instances are due to lack of capacity in the sewage system – a bigger problem which ultimately leads to human waste spilling into the environment.
"Instead of building huge underground storage tanks, companies need to work with partners to keep rainwater out of the sewage system in the first place.
"The best way of doing this is by creating more ponds and wetlands, which also provide vital habitat for wildlife."
A spokesman for Yorkshire Water said: "Tackling overflows, which were designed into the system as a relief valve, is a priority for us but it is also a significant task.
"In Yorkshire, we have over 2,200 overflows and we know replumbing the whole of Yorkshire is not a quick fix as it would be both significantly disruptive and costly to customers and we need to ensure water bills remain affordable.
"But we are committed to playing our part to improve Yorkshire's rivers and coastline and move faster than the Government targets.
"A £180 million storm overflow improvement plan is already in motion, which will invest in the overflows we know are operating more than others.
"In the next few months, we'll be starting work on the first 90 of those overflows and creating extra storage in the system to hold water back and stop it from discharging into rivers."