First Minister Humza Yousaf's Cabinet appointments have been approved by MSPs, in what he described as a "changing of the guard".
Mr Yousaf appointed ministers and junior ministers on Wednesday, with the hirings backed by a majority of MSPs in a vote in Holyrood on Thursday.
MSPs voted by 71 votes to 56 to back the appointments.
Mr Yousaf paid tribute to those who have left the top table, touting the new set-up as one of change after four of the most senior members of the Scottish Government moved to the backbenches.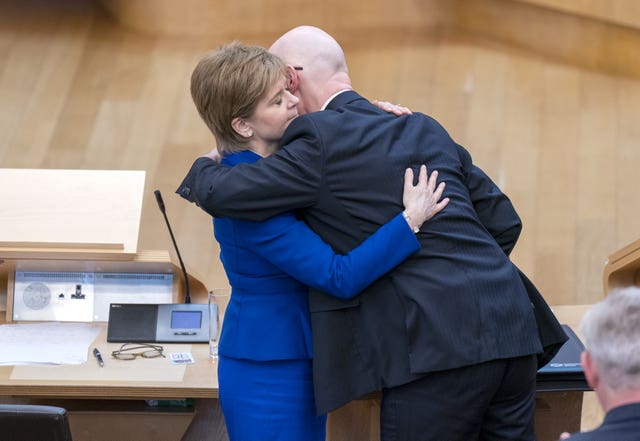 "It's a refreshed line-up for a new era of Government," the First Minister said.
"As we look to the challenges of the future, it's very much a changing of the guard."
Mr Yousaf also made the decision to continue the powersharing agreement signed by his predecessor with the Scottish Greens, keeping Patrick Harvie and Lorna Slater in ministerial office under his premiership.
He said those were "absolutely the right appointments to make" because of "the fact that it upsets some in this chamber so much".
Craig Hoy, the Scottish Conservative chairman, hit out at Mr Yousaf's Government appointments, describing them as "failed continuity ministers, appointed by a failed continuity First Minister".
He added: "Kate Forbes was correct – continuity won't cut it, but it is continuity that is running through the core of his Cabinet."
Siobhian Brown, appointed as community safety minister, supported Ms Forbes's candidacy.
Mr Bibby said the change Scotland needs is "not bigger government, better government", as Mr Yousaf appointed the largest Government team since devolution.
"Today, after 5,810 days of the SNP in power, so many people in Scotland need them to do their job," the Labour MSP said.
But he stressed his party will look to work with the Government on points of agreement.
"The Scottish Labour benches will work with ministers on the issues I've mentioned, provided they're prepared to roll up their sleeves and work to find practical solutions to Scotland's problems – the question is, will they?"
Green MSP Gillian Mackay welcomed the appointments, but urged ministers and MSPs across the chamber to be more respectful in debate.
She said: "By all means, scrutinise and debate where things have gone wrong, but talk about the ideas and argue why yours is better, not why you believe someone is any of the things that have been attributed to members of this Parliament in recent weeks."