Scottish First Minister Humza Yousaf has defended his decision to include a minister for independence in his Government team – as he came under fire for having a "taxpayer-funded nationalist campaigner" in the new ministerial role.
Jamie Hepburn was appointed to the new position on Wednesday, as Mr Yousaf revealed his Cabinet and junior ministers.
Scottish Conservative leader Douglas Ross said while the new SNP leader had "been able to create a dedicated minister for independence" in his Government, he had "abolished" key ministerial roles.
Mr Ross challenged Mr Yousaf on his choices for Government positions as he faced his first session of First Minister's Questions since taking on the top job in Scottish politics.
Mr Ross said: "This is the largest Government since devolution, with more ministers than ever before.
"But key ministerial posts relating to social security and tourism were abolished, yet a new minister for independence was created.
"Does the First Minister really believe appointing a taxpayer-funded nationalist campaigner is governing for all of Scotland?"
Mr Yousaf replied: "I make no apology whatsoever for having a minister for independence, as my goodness we need independence now more than ever before.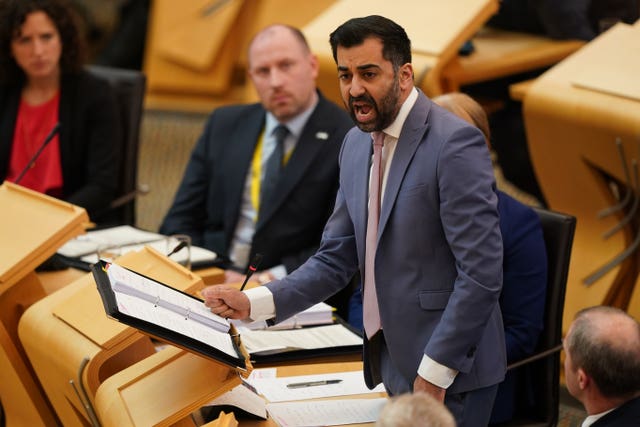 "We need independence now more than ever before because we have more food banks in this country than at any other time than ever before because of over a decade of austerity.
"So I would say to Douglas Ross, to the UK Government, we will continue to advocate and advance independence, because we need it now more than ever before."
Mr Ross claimed Mr Yousaf is "looking for a fight" with Westminster.
"The First Minister has to realise independence is not a priority for people across Scotland right now," the Tory leader said.
He said Mr Yousaf is "pushing independence" in a bid to unite his party around him after he "squeaked a win" in the recent leadership election.
Nicola Sturgeon stepped down as SNP leader and Scottish first minister after more than eight years in the job, with Mr Yousaf recording a narrow 52% to 48% win over his nearest rival Kate Forbes, who refused to join his Cabinet.
Attacking the new First Minister, Mr Ross said: "He has stuffed his Cabinet full of his predecessor's lackeys, ministers with almost as poor a track record in Government as he has.
"He squeaked a win and then forced the former finance secretary Kate Forbes and her supporters out of Government in an act of petty vengeance.
"And now to shore up his position in his feuding party, he is back pushing independence because it is the only thing that unites the SNP.
"In these difficult times, Scotland needs a Government focused on the real priorities of people across Scotland and the big challenges we face.
"Yet we have one that is at war with itself and focused upon engineering further division."
Mr Yousaf however said he was "delighted to have appointed a Cabinet and a ministerial team that will build upon the legacy" of Ms Sturgeon and her deputy first minister John Swinney.
He dismissed Mr Ross as being a "third rate politician leading a third rate party".
Speaking about the SNP, the First Minister declared: "It is because we focus on the priorities of the people of Scotland we are going to continue, I am certain, to be the most popular party in this country."