SNP leader Humza Yousaf has tipped Shona Robison to be his deputy just minutes after being voted in by MSPs as Scotland's youngest First Minister and the first from a minority ethnic background.
In his acceptance speech, Mr Yousaf said he had faced racist abuse until he "felt I simply did not belong here" and hopes his election to the top job in Scottish politics sends a "strong message" to people feeling the same.
The 37-year-old succeeds Nicola Sturgeon, who formally tendered her resignation to the King on Tuesday morning after announcing her intention to stand down last month after more than eight years in the post.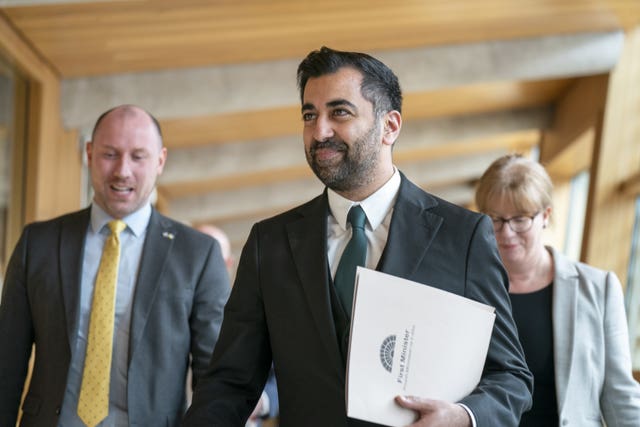 Speaking to journalists immediately after leaving the Holyrood chamber for the first time as First Minister, he said: "I'm very pleased to tell you that Shona Robison is going to be my deputy first minister."
The pair are now working to finalise their cabinet, he said, with appointments expected in the coming days before a vote of MSPs on Thursday.
Ms Robison has been a familiar face around the cabinet table in recent years under Ms Sturgeon, most recently serving as Social Justice Secretary.
She proved to be a top member of Mr Yousaf's campaign for the SNP leadership, garnering praise in his acceptance speech on Monday.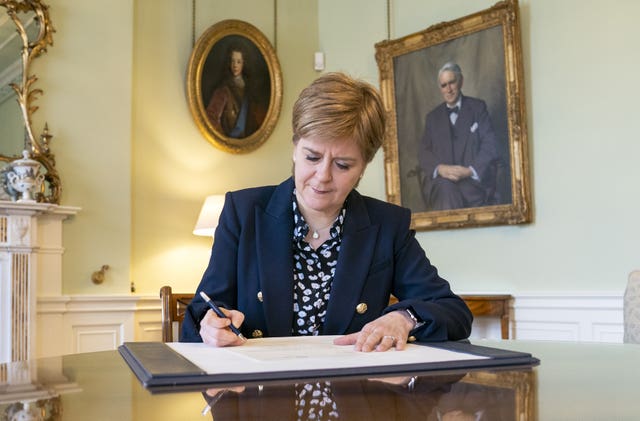 Scottish Conservative leader Douglas Ross, Scottish Labour leader Anas Sarwar and Scottish Liberal Democrat leader Alex Cole-Hamilton all stood against Mr Yousaf for the position of First Minister in the Holyrood vote but failed to secure enough support.
Mr Yousaf won the votes of 71 fellow MSPs, with members of the SNP and Greens backing his candidacy for First Minister of Scotland.
The 31 Tory MSPs voted for Mr Ross while 22 of the Labour contingent voted for Mr Sarwar. The four Lib Dem MSPs backed their leader, Mr Cole-Hamilton.
In his acceptance speech, Mr Yousaf said: "I've lost count of how many times my identity, my loyalty to Scotland – the only country I have ever and will ever call home – has been questioned over the years.
"There was a time not that long ago when I felt I simply did not belong here."
He said he will champion people who have felt the same, saying he hopes his election "sends a strong message to every single person out there who feels that they don't belong".
He said: "No matter what anyone says, no matter who you are, whether Scotland has been your home for a day or for 10 generations, no matter your ethnicity, no matter your gender, no matter your religion, no matter your sexual orientation, your transgender identity or disability, this is your home and don't let anyone ever tell you that you do not belong."
Mr Yousaf said he will lay out detailed policies to Holyrood after the April recess.
His Government, he said, will prioritise tackling the cost-of-living crisis and he will speak to anti-poverty groups in one of his first engagements as First Minister.
He added that he will seek to reform the NHS and social care, extend free childcare, maintain the promise made to care experienced young people, reform criminal justice and tackle drug deaths.
Mr Yousaf went on to say he hopes to "build on the record" of Ms Sturgeon and former deputy first minister John Swinney.
He continued: "This Parliament has just given me the opportunity to help steer this nation's course as we make the next stage of that journey together.
"Doing that will be the honour and the privilege of my life.
"I will strive every single minute of every day to be worthy of it."
Mr Sarwar, meanwhile, pledged to continue to work alongside the new First Minister in their fight against racism.
On Mr Yousaf's election as First Minister, the Labour leader added: "It is something our grandparents would never, ever have imagined when they arrived in this country and made Scotland their home.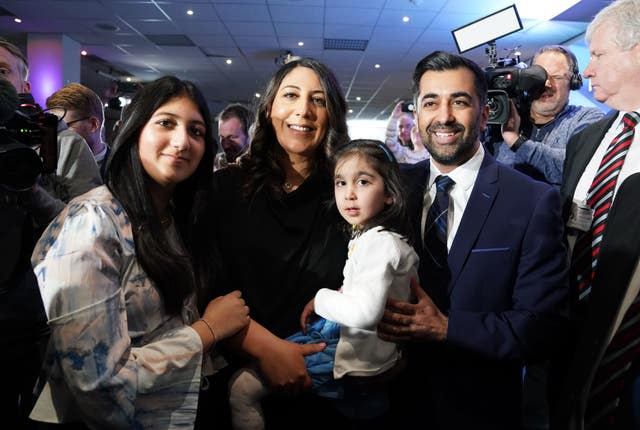 "I am proud of the work we have done alongside others to stand against hatred and bigotry, and my promise is that I will continue to stand alongside you in that fight for all of us."
Scottish Secretary Alister Jack congratulated Mr Yousaf on becoming First Minister, adding: "The UK Government wants to work constructively with him on the issues that matter to people in Scotland.
"I hope that Mr Yousaf will govern for the whole of Scotland. In particular, I hope he will put his obsession with independence aside and concentrate on working with the UK Government to make life better for people in Scotland."
The Glasgow Pollok MSP will now officially be sworn in as First Minister at the Court of Session in Edinburgh on Wednesday.