The Government has only been able to get 8% of levelling-up funds "out of the door", Labour has claimed.
Communities Secretary Michael Gove would not be drawn on accusations that more than 90% of the promised £4.8 billion regeneration cash had not yet been spent.
A Labour freedom of information request seen by the PA news agency suggested the total spend of the levelling-up fund was £392 million by the end of February, approximately 8% of the full amount.
Two rounds of the £4.8 billion fund have so far been released, worth £1.7 billion and £2.1 billion respectively, with cash allocated towards regeneration projects across the UK.
A third round of funding is expected to be announced later this year.
Referring to Mr Gove's appearances on weekend politics programmes during which he announced the Government's plans to ban laughing gas, she added: "He is good at getting press releases out the door, why not our money?"
Mr Gove did not respond directly to the claims, but said: "In the Budget just the other week, the Chancellor of the Exchequer was responsible for making sure that tens of millions of pounds were spent.
"We heard during the course of questions from members across this House who have received support, who have had projects delivered, who have seen change delivered.
"This is a Government impactful, effective and focused, and on the other side, I am afraid, all we here is the cackle of impotence."
Ms Nandy hit back by claiming plans in the Budget to scrap the lifetime pensions allowance limit disproportionately favoured the wealthy.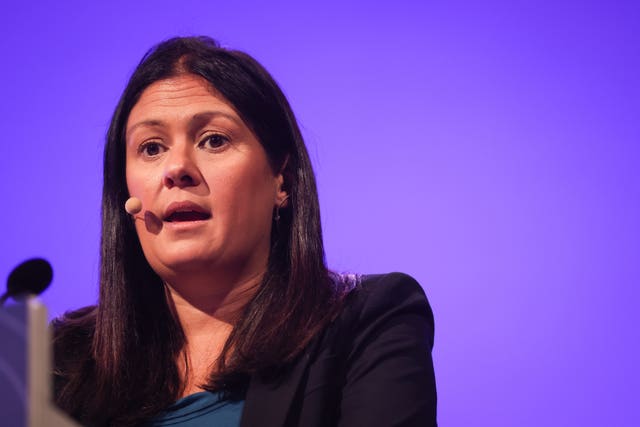 "Doesn't this just sum this Government up? They can get their act together when it comes to the 1%, but when it comes to investment in our town centres, local transport, decent housing, even on delivering on a single one of the levelling-up missions, why is it that the rest of us always just have to wait?"
Mr Gove responded that the Government had adopted a Labour proposal suggested by shadow health secretary Wes Streeting, adding: "Inconsistency, thy name is Labour."
Labour's freedom of information request had asked the Government how much money allocated through the fund had been spent.
The Department for Levelling Up, Housing and Communities responded that £224 million had been spent by January 18, rising to £392 million by February 22.
Elsewhere in the debate, Mr Gove said the Government would make a statement this week on how it plans to continue funding organisations in Northern Ireland which used to receive EU cash.
Simon Hoare, Conservative chairman of the Northern Ireland Affairs committee, told MPs some groups had "huge problems to their budget" as a result of the cliff edge end to funding.
The Communities Secretary replied: "He has been vigilant on behalf of communities in Northern Ireland and we will be making a statement later this week, and the minister for levelling up and I will be doing everything we can in order to ensure continuity of funding for these services."