The Levelling-Up Secretary has refused to guarantee that HS2 will terminate at Euston, saying he did not know where the final London destination would be.
Michael Gove, quizzed on where the upgraded rail route could end in the UK's capital, said there was a "debate" about whether it should be Euston or Old Oak Common, a west London suburb.
The Government announced earlier this month that it will prioritise having initial HS2 services running by 2033 between Old Oak Common and Birmingham Curzon Street as part of measures designed to cut costs.
It means services will not stop in Euston in central London for years to come, with passengers expected instead to travel for half an hour on the Elizabeth Line.
The senior Conservative, asked on Channel 4's The Andrew Neil Show whether he could guarantee the train route would end in central London, said: "There is a debate about whether or not it should be Old Oak Common or Euston.
"Old Oak Common is going to be a major area for regeneration but we want to make sure as many people as possible can benefit not just from the additional rail infrastructure but also from the regeneration that HS2 can bring.
"So the Old Oak Common area is a part of north-west London that requires levelling-up."
Pressed on whether HS2 would go to Euston, the Cabinet minister replied: "I don't know what the final decision will be about where the terminus will be."
Reports surfaced in January that the Euston element of the high-speed line might never be completed despite preparatory works having started around the major station.
But Chancellor Jeremy Hunt was quick to attempt to quash such rumours.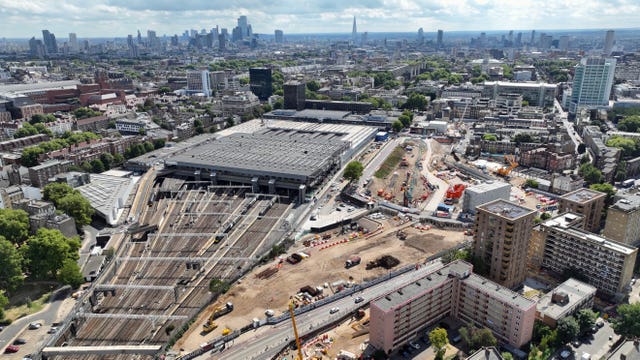 Complexities around the Euston site meant high-speed services were already due to temporarily start and end at Old Oak Common, with passengers using the Elizabeth line to travel to and from central London.
A "full business case" for HS2 published by the DfT in April 2020 stated that the target timeframe for services launching between Old Oak Common and Birmingham was 2029-2033, whereas for trains between Euston and north-west England the range was 2031-2036.
Transport Secretary Mark Harper's announcement earlier this month on prioritising Old Oak Common to Birmingham services was interpreted as meaning that route may not now enter central London until the 2040s.
But Mr Gove's remarks will cast doubt on whether the Euston connection will ever be given the green signal.
As part of Mr Harper's announcement, it was also confirmed that the construction of the Birmingham to Crewe leg of HS2 will be pushed back by two years.
Mr Gove said it remained Government policy for the line to be built as far as Manchester in the north of England.