The Governor of the Bank of England has pleaded with companies to remember that inflation will drop sharply later this year when they are setting prices or risk hurting those on the lowest incomes.
Andrew Bailey said that if companies set prices that help embed inflation in the economy it will not benefit anybody and warned that the Bank would put up interest rates in response.
In an interview with BBC Radio 4's Today programme, Mr Bailey said: "If all prices try to beat inflation we will get higher inflation."
He added: "I would say to people who are setting prices – please understand if we get inflation embedded, interest rates will have to go up further and higher inflation really benefits nobody."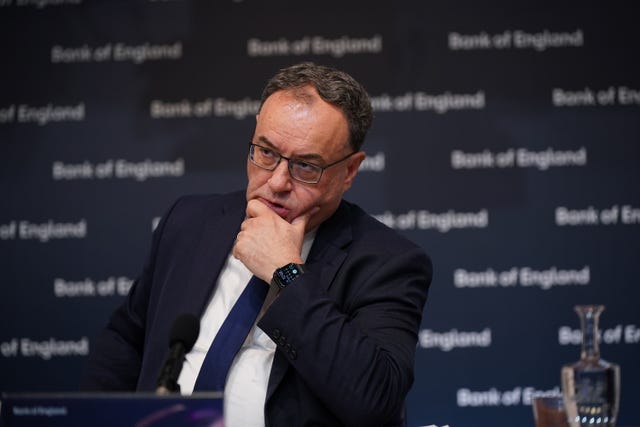 He said that companies have to set prices based on the costs they face, which have been rising rapidly over the last year.
But he added that, when looking to set future prices, companies should "please bear in mind" that these cost rises are expected to slow considerably by the end of the year.
Mr Bailey said higher inflation "really benefits nobody", adding: "It hurts people and it particularly hurts the least well off in society."
It comes after the Bank on Thursday decided to hike its base interest rate from 4% to 4.25%. It is the 11th rise in a row and some experts think it might be the last for a while.
Mr Bailey said that he thinks that the risk of a recession has receded in recent weeks after the Bank upgraded its forecast for the second quarter of the year.
It now expects gross domestic product (GDP) to rise slightly in the April to June period, up from a previous forecast that it would drop 0.4% in those months.
"I think if you look at it in the context of a risk, then the risk has gone down quite a lot," he said.
"But what I would say very clearly is that the prospects for the economy in terms of growth are now better, considerably better.
"And I think it is reasonable to say that there's a pretty strong likelihood that we will avoid a recession this year.
"But we've still got to put in place the conditions for much stronger growth in the economy and sustainable growth in the economy."
Downing Street on Friday said it is for individual companies to make their own decisions, when asked about Mr Bailey's remarks.
A No 10 spokesman said: "It is obviously for individual companies to make their own commercial decisions.
"Our focus and what we think the best thing to do is ease pressures on businesses and households alike, to get inflation down, which is why we have promised to halve inflation this year, and both the OBR and the Bank of England predict we will do that.
"Our focus is very much on supporting businesses."