London's FTSE 100 has slumped to its lowest levels this year as banking shares plunged amid resurging fears over the health of the global financial system.
The sharp sell-off came ahead of Chancellor Jeremy Hunt delivering his Spring Budget on Wednesday.
The blue-chip index was trading about 2.5% lower, dragged down by banking and insurance stocks which had only briefly managed to recover after the monumental collapse of Silicon Valley Bank (SVB) in the US sparked a global sell-off.
It sank to lows of about 7,440, not seen since December last year.
Shares in insurance giant Prudential were down by more than 10% despite the company feeling optimistic about China reopening its borders.
Barclays had tumbled by around 7%, and Standard Chartered was down by more than 6%.
British bank NatWest Group was down by nearly 5% and HSBC had slipped by around 4%.
Switzerland-based Credit Suisse saw its share price tank to a new record low after its largest investor said it would not increase its stake.
Shares in the Zurich-listed bank were down by more than 20% to about 1.8 Swiss francs in morning trading.
Neil Wilson, chief market analyst at Finalto, warned that Credit Suisse is "too big to fail" amid concerns from investors that the bank could be "the next shoe to drop".
The pound also slipped and was down by about 0.7% to 1.207 US dollars.
The market jitters came ahead of Mr Hunt delivering his Spring Budget in the UK on Wednesday.
An important measure has already been announced – that the energy price guarantee, which caps average household bills at £2,500, will be extended at its current level for a further three months from April to June.
Prime Minister Rishi Sunak said: "Continuing to hold down energy bills is part of our plan to help hardworking families with the cost of living and halve inflation this year."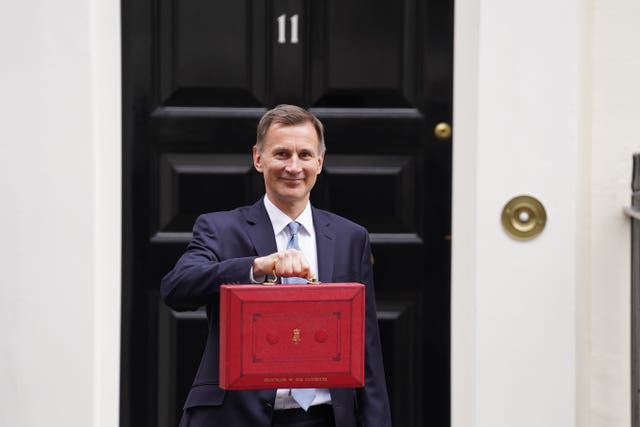 Analysts suggested that the usual attention on the Budget has slipped in the wake of SVB's collapse and fears of contagion in the UK.
Victoria Scholar, head of investment at Interactive Investor, said: "All eyes were supposed to be on the Budget this week but the collapse of Silicon Valley Bank with concerns about financial contagion has superseded the famous red box.
"It has been a volatile week for financial markets as investors weigh up the negative economic impact from the bank's failure versus the prospect of more accommodative monetary policy from the Bank of England and the Federal Reserve."
Russ Mould, investment director at AJ Bell, said: "It would be nice to have a sense of calm across the markets following troubles earlier this week but it's clear that investors remain nervous about what might be lurking in the shadows."
He added: "To be fair, a lot of investors will be waiting for the Budget later today before committing any new money to equities or shifting their portfolio."