The Conservative Party chairman has apologised to the head of the civil service after an email sent out in the Home Secretary's name said public servants had held up efforts to tackle unlawful migration.
Home Secretary Suella Braverman has said she did not sign off the correspondence last week which blamed "an activist blob of left-wing lawyers, civil servants and the Labour Party" for blocking previous attempts to prevent migrants arriving in small boats across the Channel.
Cabinet Secretary Simon Case, in a letter to the Public and Commercial Services (PCS) union, said Tory chairman Greg Hands had apologised for the communication, which Conservative Party Headquarters (CCHQ) has said was not sent with Mrs Braverman's oversight.
Mr Hands has, according to Mr Case, made assurances that "he has already taken action to change procedures in CCHQ" to ensure there is "not a repeat of this incident".
In a letter dated March 11 and seen by the PA news agency, Mr Case told PCS general secretary Mark Serwotka: "You will have seen that the Home Secretary has been clear that she did not see, sign-off or sanction the email.
"She has also written to staff across the Home Office to thank them for their outstanding work on the Illegal Migration Bill.
"Furthermore, the Home Secretary has also made clear her gratitude to Home Office civil servants in her public interviews in recent days.
"I have also spoken to the party chairman who apologised for the error.
"He assured me that he has already taken action to change procedures in CCHQ to make sure that there is not a repeat of this incident.
"Finally, the party chairman has also provided his assurance that attacks on the civil service are not part of any standard CCHQ lines."
Mr Case told Mr Serwotka, who wrote to the civil service chief about the email's attack on government workers, that he took "any instances that may undermine our impartiality incredibly seriously".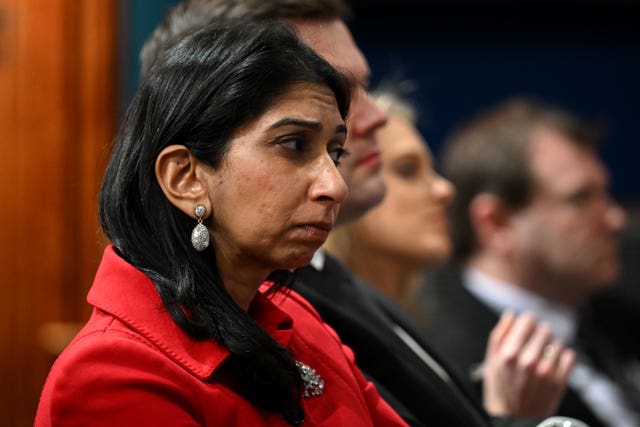 A copy of his letter, Mr Case said, had also been shared with the FDA, a union representing senior civil servants that also raised concerns about the Tory email.
No 10 and Mrs Braverman have both distanced themselves from the communication attacking civil servants.
The Home Secretary told ITV last week: "I didn't write that email, I didn't see it and it was an error that it was sent out in my name."
Rishi Sunak's official spokesman said the email "certainly does not represent the views of the Prime Minister".
CCHQ last week admitted that "the wording wasn't seen by the Home Secretary" and said it was "reviewing" its internal clearance processes.
The party headquarters said it had nothing to add following Mr Case's letter setting out Mr Hands' apology.
The Government's controversial asylum proposals laid out in the Illegal Migration Bill cleared their first Commons hurdle on Monday.
The legislation aims to stop people claiming asylum in the UK if they arrive through unauthorised means, with the measures part of Mr Sunak's action plan to deliver on his pledge to stop small boats of migrants from crossing the English Channel.