The Windsor Framework does not deal with some "fundamental problems" created by the Northern Ireland Protocol, DUP leader Sir Jeffrey Donaldson has said.
Sir Jeffrey said he was seeking further clarification from the UK Government over elements of the post-Brexit deal where he said concerns remained.
Responding, Downing Street said Prime Minister Rishi Sunak's Windsor Framework agreement is the "best deal available" for Northern Ireland.
Mr Sunak and the EU Commission President Ursula von der Leyen unveiled the new framework last month to replace the protocol which had led the DUP to collapse the Stormont powersharing institutions.
The latest deal seeks to remove post-Brexit trade barriers, creating a new system for the flow of goods into Northern Ireland.
Speaking in Washington, Sir Jeffrey said there had been an understandable focus on his party's position on the agreement.
He said: "The Windsor Framework, while undoubtedly representing significant progress across a number of areas, does not deal with some of the fundamental problems at the heart of our current difficulties.
"It is my current assessment that there remains key areas of concern which require further clarification, re-working and change as well as seeing further legal text."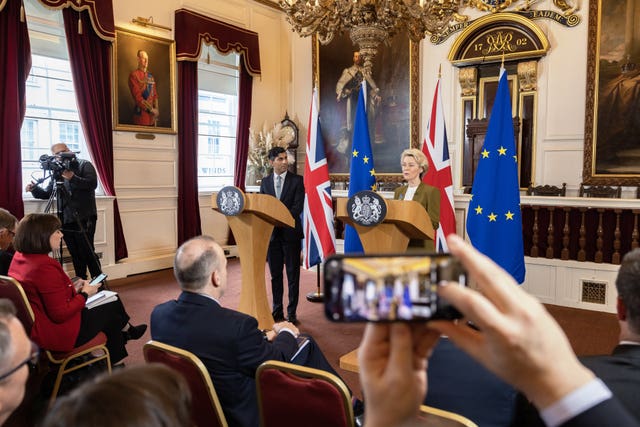 He said protecting Northern Ireland's place in the UK internal market remained "unfinished business" and raised concern over the continued application of EU laws in the region.
The DUP chief also said he wanted further clarity on green lane arrangements to deal with goods from registered UK businesses that are sold and destined for final consumers in Northern Ireland as well as the Stormont brake element of the framework.
Sir Jeffrey said: "We have already commenced discussions with the UK Government on a range of issues where we require further clarity and where we believe more work will be needed.
"We will continue with that engagement to ensure that we get an outcome that works and which can be considered against our seven tests.
"We want to see a return to the delicate political balance within Northern Ireland where the views of unionists are valued and respected."
In response, a No 10 spokesman said: "We have been engaging with the DUP and other groups on the Windsor Framework, and we stand ready to discuss any further questions.
"We have said we will let MPs have a say and we are committed to a vote on it in Parliament. But, ultimately, the Prime Minister thinks this is the best deal that is available to Northern Ireland.
"This is something that the Government has been working on for a long time. It fixes the problems that we know existed in the protocol and the impact it was having on people's everyday lives in Northern Ireland.
"We think this is the right deal."