Former world boxing champion Amir Khan has told a court how looking down the barrel of a gun as he was robbed of his £70,000 watch was scarier than any of his fights.
The 2004 Olympic silver medallist, 36, said his wife, Faryal Makhdoom, 31, was "screaming and crying" when he was targeted as they left the Sahara Grill Restaurant in Leyton, east London, on April 18 last year.
Snaresbrook Crown Court has heard how he was forced to hand over his bespoke, rose gold, diamond-encrusted Franck Muller watch, a gift following a boxing match, worth between £60,000 to £70,000, by gunman Dante Campbell, 20.
Mr Khan, who was a unified world champion at light-welterweight, said the robber pointed a gun in his face and said: "Take off the watch."
"I'm a sportsman, I'm a fighter. I have always been put in the toughest situations when I go into the ring and fight someone, but this was totally different, very, very scary."
Asked how close the robber was to him, Mr Khan, who currently lives in Dubai, said: "Very close. He was really close.
"I remember the gun – a foot from my face. I remember looking right into the barrel there, looking into the gun barrel."
Mr Khan said he had been shopping in the Knightsbridge area, while his influencer wife was doing a shoot, before the couple ate dinner with his friend Omar Khalid, breaking the Ramadan fast.
"I spent about an hour in the restaurant," he said. "Everything seemed nice and calm. I was taking pictures with fans, meeting people, talking to people, so everything seemed cool."
Khan, who gave a thumbs up to photographers as he arrived at court, wore a dark grey, three-piece pinstriped suit as he took to the witness box on Tuesday.
He said Mr Khalid left first to get his car before he and his wife followed.
"It happened quite fast. I thought maybe it was someone messing about.
"He ran to me and pushed me towards the car, I fell back on the car and next I see a gun pointed in my face.
"It's the first time I have ever seen a gun."
Mr Khan said he was in "shock" and that he did not want to look at the gunman, who had his face covered with a scarf, because "I didn't want him to pull the trigger".
The sportsman said: "He said, 'Take off your watch'."
Mr Khan said the gunman and another robber ran off before people from the restaurant ran towards them.
"I could hear my wife screaming and crying," he said.
Ismail Mohamed, 24, from Edmonton; Ahmed Bana, 25, from Tottenham; and Nurul Amin, 25, from Harringay; all north London, are on trial where they deny conspiracy to rob.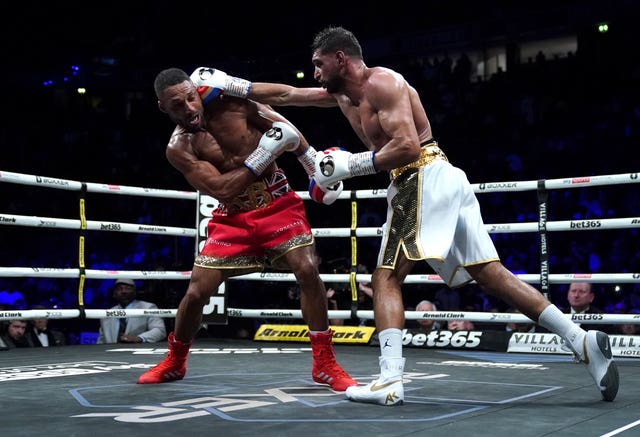 Gunman Campbell, from Hornsey, also north London, has pleaded guilty to the charges, the jury has been told.
Bana is alleged to have been the driver of the silver Mercedes coupe, which dropped Campbell and another unknown robber at the scene before serving as the getaway vehicle.
Amin and Mohamed, along with another man who is not on trial, are said to have acted as "spotters" – dining in the restaurant to keep track of Mr Khan's movements and relay them by phone to Bana.
Prosecutor Philip Evans KC said the "carefully planned and executed robbery", which was captured on CCTV played to jurors, was "over in seconds".
Zacharias Miah, defending Amin, highlighted Mr Khan and his wife's BBC Three reality television show, Meet the Khans, and pointed to social media posts by the boxer.
"You are not shy in telling the world about your luxury lifestyle and the luxury items you have with you," he suggested to Mr Khan.
"I'm not shy, I have worked hard for it," Mr Khan said.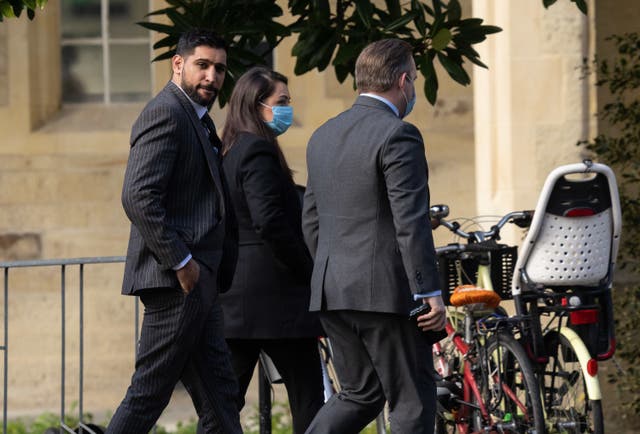 "Don't always believe the TV, I didn't really pay for it, it was given for free," said Mr Khan.
Mr Khan, who said his insurance expired two weeks before his watch was stolen, admitted telling the media shortly after the robbery he believed "the hit" had been orchestrated by a member of his inner circle but said he had been mistaken.
Giving evidence from behind a screen, Mr Khalid said he first thought the robbers were fans when he saw them coming towards his car but then felt his friend "thudded" into the vehicle.
"I looked through the window and one of them had a gun," he said.
"I probably froze for about a second. I thought in my head, 'What do I do here? He's my friend, I need to help'.
"I got out of the car and the gun was pointed at me."
The trial continues.