SNP leadership hopeful Humza Yousaf has told the party's most vociferous internal critic people do not vote for divided parties, as he urged her to be "respectful".
Joanna Cherry has repeatedly railed against the party's hierarchy, most notable on her strong opposition to gender reforms, but has more recently hit out at the position of chief executive Peter Murrell – who is married to Nicola Sturgeon.
This week, the Edinburgh South West MP – who has announced her backing for Ash Regan in the race to succeed Nicola Sturgeon – said the "party machine" was working to elect the Health Secretary.
Speaking to the PA news agency, Mr Yousaf said he did support her remaining as an SNP MP, adding: "I would say to Joanna Cherry that it's really important, of course, that we speak up about principles, but we do so in a very respectful manner."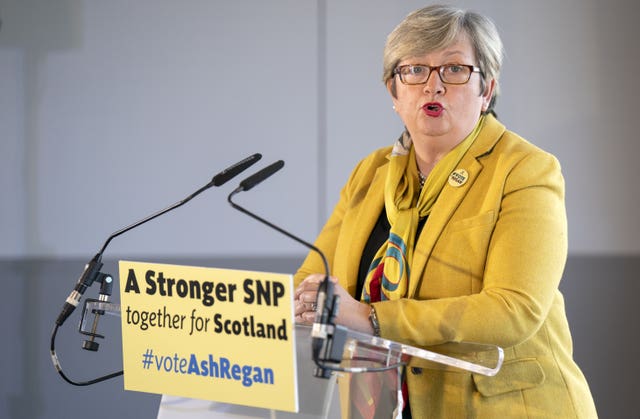 "(She's) absolutely right to raise concerns you've got, but I absolutely think you have to raise them in a way that is respectful and that's the type of leadership that I want to see."
When pushed on Ms Cherry's comments about the support from the SNP hierarchy for his candidacy, Mr Yousaf intimated there may be a political motive behind them.
"It's also a leadership contest," he said.
"You just take these things on the chin as you go.
"I don't really entertain conspiracy theories, I never really have."
The question of discipline within the SNP has come to the fore in recent months more than it has since the party took power in 2007, starting with the rebellion of nine MSPs against the party's gender reform proposals.
The Bill – which would be blocked by the UK Government – passed by 86 votes to 39 in December, with the SNP group whipping its MSPs to vote in favour.
It is not clear what – if any – disciplinary action was taken against the nine rebels, but Mr Yousaf said he backed the decision to whip MSPs in favour of the Bill, adding he was not in favour of removing the whip for those who voted against.
"My view has always been that you create the biggest tent as possible."
Even if MSPs vote against the whip, Mr Yousaf said, the party has a duty to ensure they do not feel they are "cast out as pariahs to live their whole political life on the back benches".
But he said it was "important" that the SNP whipped members to vote in favour of the gender reforms.
"For me, this was an issue where we make the process ever so slightly easier for a very marginalised group of people, so I think it's right that we had whipped the party," he said.
SNP MSPs, he said, were elected on a manifesto in 2021 which pledged to reform gender recognition legislation, but the controversial principle of self identification – where a person can change their gender without a medical diagnosis – was not included in the party's election platform.