An MP has accused the NHS of "abandoning" her brain cancer-hit sister during an emotional House of Commons speech.
Labour's Siobhain McDonagh fought back tears as she raised the experiences of 61-year-old Margaret McDonagh, a former Labour Party general secretary who sits in the House of Lords as Baroness McDonagh.
The MP for Mitcham and Morden criticised the lack of progress on brain cancer treatment since 2005 in the NHS.
Ms McDonagh told the Commons: "The numbers that the NHS is currently forsaking and abandoning to international travel, the lucky people who can get the funds to do that, is nothing short of a complete and utter national scandal.
"I wonder what my mum, who came here in 1947 to train as the first generation of nurses from Ireland, would say about the NHS abandoning her daughter."
Ms McDonagh earlier explained her sister collapsed in front of her and had a series of fits in November 2021, adding she was later diagnosed with a glioblastoma – the most aggressive and fatal form of brain tumour.
The tumours were later removed and Ms McDonagh praised Dr Paul Mulholland, of University College London (UCL) Hospitals, for being "why Margaret is still alive".
Ms McDonagh said her sister could not go through with the available treatment in early 2022 as it "would have killed her", noting there are "no trials and nowhere to go" in this country.
As she explained the trips to Germany, Ms McDonagh said: "That might seem an easy thing to do but I have to say to take a seriously ill person on an aeroplane to a hotel with access to no healthcare and no emergency services would be a foolhardy thing to do unless there was nothing else in this country – and there was and is nothing."
She noted there were times "when I thought I couldn't get her on the plane" given her sister was "so unwell", explaining: "There was one night when I stayed and stared at her because I didn't think she was going to make it through the night and how would I explain that to anybody?"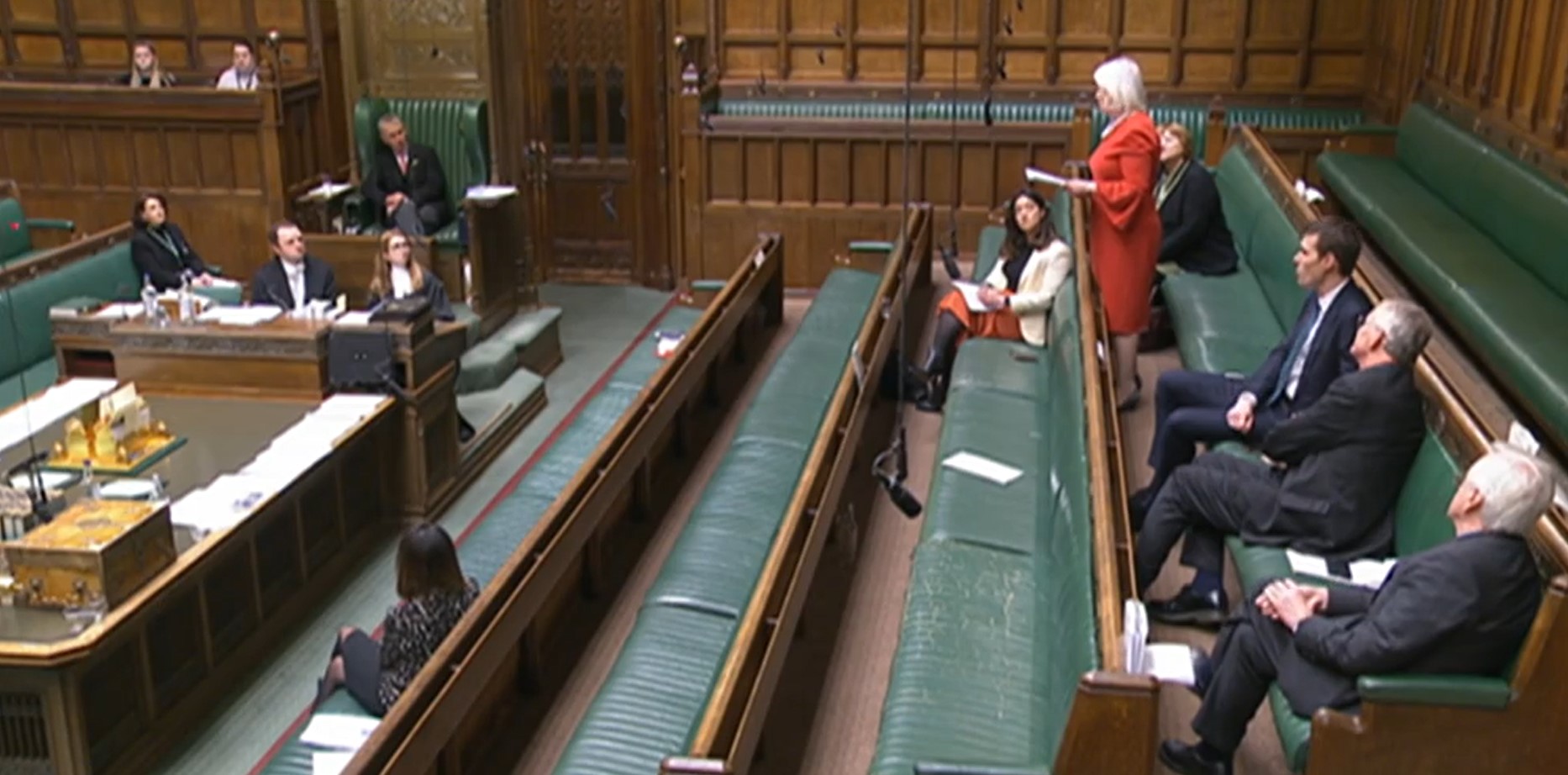 Ms McDonagh said the experiences for others could be different in future, telling health minister Will Quince: "Please don't give the NHS any more money, don't give the cancer research charities any more money until they guarantee to you that at least 200 sufferers every year get access to a trial – that's 1,000 patients over the course of a (government's) lifetime.
"With those trials we can begin to understand what works and what doesn't work.
"And give no money to the NHS trainers until they commit to you that every young doctor training to be a medical oncologist has to go through a course on brain tumour. At the moment there is no compulsory training."
Ms McDonagh said such moves would improve the chances of young doctors taking on the specialism.
Concluding, she said: "When I go to bed tonight I will keep my ear open for Margaret, to hear her call my name, and I will get up and I will go into her room and she may well be asleep because I've imagined she was calling me.
"And I accept that. That's my duty. It's what I've learnt from my family, what I've learnt from my faith and what I have learnt from my politics.
"I accept my responsibility. All that I want is for the NHS, the cancer research charities, pharmaceutical companies to stand up and accept their responsibility and to give some hope to the 3,200 people who will be diagnosed with a glioblastoma this year."
Deputy Speaker Nigel Evans said: "That's a very brave speech, Siobhain, and please send our love from Parliament to Margaret."
Closing the debate, Mr Quince told Ms McDonagh: "I'm so very sorry to hear of her experience, which must have been very difficult to share.
"She made the point about cancer diagnosis and treatment, and we have come on so much, but I know and recognise that this is not universal across all cancer types and we have much more to do."
On clinical trials and "the need to travel abroad", he said: "We can't do them all here in the UK. Sometimes I wish we could. It is global competition, but I want to give her my personal assurance that clinical trials are so high on my agenda.
"I want to make sure that our United Kingdom has the best environment for clinical trials."