The immediate threat of strikes in several sectors has been averted this month amid talks about pay, but industrial action will continue to cause disruption elsewhere in the UK.
Services from health to education and transport are set to be hit by walkouts this month and beyond.
Here, the PA news agency looks at the status of disputes over pay and working conditions in sectors that have been planning industrial action: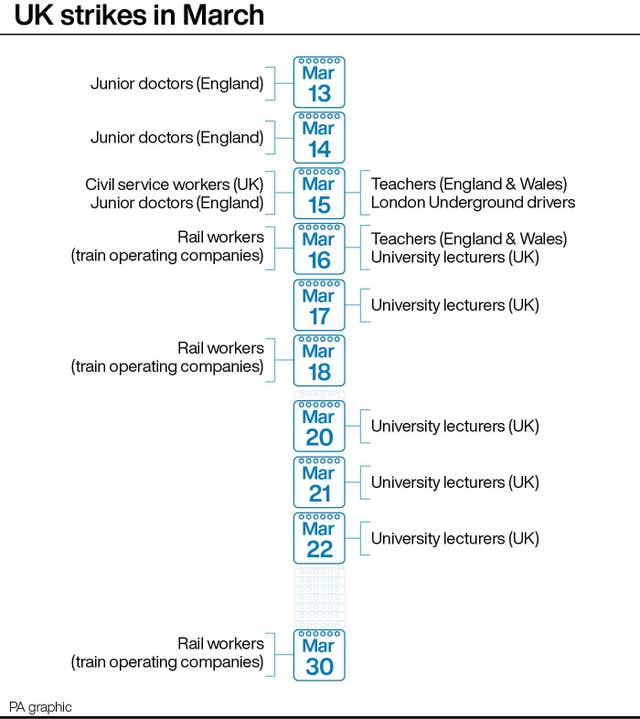 Teachers from the Educational Institute of Scotland (EIS) were due begin a rolling programme of strikes for 20 days from March 13 until April 21.
But the union is now suspending all planned industrial action while it ballots its members on a new offer presented by local authority employers, with a recommendation the package is accepted.
The revised offer would see teachers getting a 12.3% increase by April 2023, rising to 14% by 2024.
Less progress appears to have been made in talks between the UK Government and the National Education Union (NEU).
Strike action by the union in England and Wales is due to take place over two days starting on March 15.
The union, which is asking for an above-inflation pay rise for teachers, has suggested walkouts could be paused if "real progress" is made in negotiations.
Education Secretary Gillian Keegan said she has made a "serious offer" to get round the table with union representatives and discuss pay and conditions.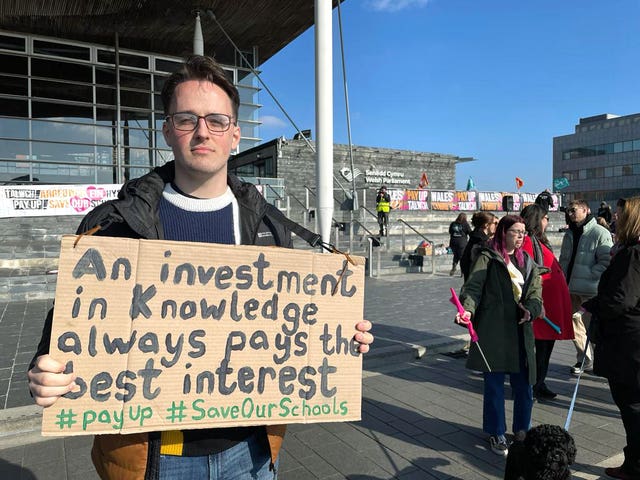 The Department of Health and Social Care entered talks with unions representing ambulance workers, physiotherapists, nurses and midwives on Tuesday.
The unions directly involved in the talks are: Unison; the Chartered Society of Physiotherapy (CSP); GMB; Unite; the Royal College of Midwives; and the Royal College of Nursing (RCN).
Planned strikes by Unison healthcare workers and ambulance staff across England on Wednesday have been called off due to the discussions.
The decision was taken after the DHSC confirmed there would be additional investment for both the 2022/23 year and 2023/24, the union said.
Welsh ambulance workers who are members of Unite were also due to strike on March 9 – but have suspended the plans, and the RCN, CSP and GMB have also agreed to pause action during the talks.
However, junior doctors in England will still strike for three days from March 13 in a dispute over pay, the British Medical Association announced.
Health Secretary Steve Barclay was accused on Tuesday of going to meet staff without a mandate from the Prime Minister to negotiate, despite a 98% vote in favour of walkouts.
He responded by claiming he had been "literally meeting with the NHS staff council this morning", but no update on the status of the dispute with doctors was given and action is still set to go ahead.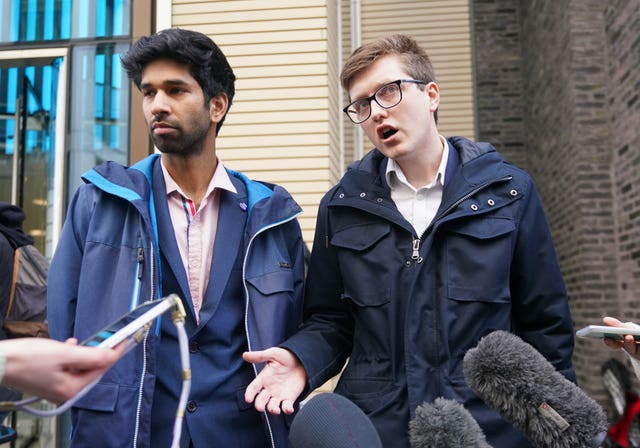 The Rail, Maritime and Transport (RMT) union called off planned strikes after progress was made in a dispute over pay with National Rail.
Members working at Network Rail were due to strike next on March 16, but the union announced on Tuesday it had suspended all action and would give further updates on the long-running dispute in the coming days.
However, some 100,000 members of the PCS union, and London Underground workers in Aslef, will still strike on Budget day next week in separate disputes.
Firefighters have voted overwhelmingly to accept a new pay offer, ending the immediate threat of strikes.
An improved offer was made in February to the Fire Brigades Union (FBU) of a 7% pay rise backdated to last July and a further 5% from July this year.
Some 96% of FBU members chose to accept the deal on an 84% turnout on Monday, with a majority having previously voted to strike.
Amazon workers have announced a series of strikes at one of the company's warehouses in a dispute over pay.
The GMB said more than 350 staff at the fulfilment centre in Coventry will walk out from March 13 to 17.
The union said its members made history last month by becoming the first Amazon workers in the UK to strike in their campaign for a pay rate of £15 an hour.