Charles Bronson has spent nearly 50 years behind bars and is making his latest bid for freedom in front of the Parole Board.
There has been a series of colourful revelations at his high-profile parole hearing this week, which took place in prison and was watched live on camera from afar by the press and public.
Here are some of the things we have learned about the long-term prisoner and his time behind bars from the two days of public hearings:
– Bronson has spent most of the past 48 years behind bars, apart from two brief stints of freedom where he reoffended.
– His first conviction was in 1974 when he was 21 and was jailed for seven years for robbery, aggravated burglary, assault with intent to rob and possession of a firearm.
– Real name Michael Peterson, he told how he was lured into crime at a young age, attracted by the "excitement" of stealing.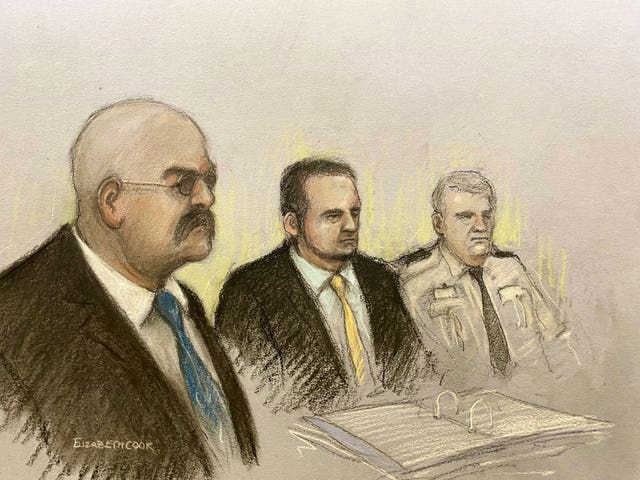 – A second name change came in 2014, when he adopted the surname Salvador to represent that he was a man of "peace".
– Sporting his trademark dark, round glasses and prominent moustache, the 70-year-old is now locked in his cell for 23 hours a day. He receives hundreds of letters.
– Having spent much of his time behind bars in solitary confinement, he passes the time by listening to the radio and creating art.
– The inmate at HMP Woodhill in Milton Keynes, Buckinghamshire, was previously diagnosed with anti-social personality disorder.
– Now he has mild symptoms of post-traumatic stress disorder, partly due to some "brutal and unacceptable treatment" while in the prison system, according to an independent psychologist hired by his legal team. He also has hearing difficulties.
– In a sign of how long he has been incarcerated, Bronson has never used a cash machine.
– He has been described as "anti-authoritarian", "suspicious" of other people's motives and as someone who romanticises his past violent offences. He is prone to outbursts of swearing, being rude to people and becoming "loud and belligerent", a psychologist told the hearing.
– Bronson told the parole panel he was "born to rumble" and spoke fondly of times where he became involved in brawls in jail.
– He described one incident, where he covered his naked body in Lurpak before facing prison guards, as the "rumble of my life", adding: "It was f****** brilliant."
– Bronson told how he went through a "phase" where he "couldn't stop taking hostages" and it was his way of "getting back" while "battling against the system. He took 11 people hostage on nine different occasions.
– He said he felt remorse for taking art teacher Phil Danielson hostage, but not the governor of Hull prison Adrian Wallace, or three Iraqi inmates he held at Belmarsh. He said he was not ashamed of his protests when he climbed on to prison roofs.
– Bronson loves a catchphrase. His testimony was packed full of analogies and anecdotes, delivered in cockney-style patter, including: "I have had more porridge than Goldilocks and the Three Bears, and I'm sick of it. I've had enough of it, I want to go home."
– He happily discusses his hard-man image, claiming he once fought a Rottweiler and that prison was now "full of fairies" and run by "namby-pamby people".
– Claiming he had been "betting for 50 years" while behind bars, he said won £1,500 last year but was not an "addict". The Ministry of Justice said gambling is against prison rules.
– Despite acknowledging he had been "naughty" in the past, but not "naughty-naughty", he now professes to be "anti-crime" and no longer violent.
– Depicting himself as "almost an angel now" compared with his old self, he said his violent ways when he called himself Bronson and was a "nasty bastard" were over.
– He dreams of walking on grass, having not being able to for over 30 years, and plans to live in the country if he is released. He describes himself as "just a normal geezer wanting to get on with his life."
– Responding to a description of him as a retired prison activist, he said this was the "best thing I've ever heard".
– He also likened facing the Parole Board panel to appearing on BBC television programme The Apprentice in front of "Lord Sugar".
– In a plea to the Parole Board, he said it is his 95-year-old mother's "last dream on this planet" to see him released from prison and "making an honest living with my art".