Dozens of flights have been disrupted in the south of England amid snowfall across the nation following the coldest night of the year on Tuesday.
The Met Office has said temperatures at Kinbrace in the Highlands dropped to this year's low of minus 15.4C overnight – the lowest March temperature recorded in more than a decade.
Meanwhile, National Highways has warned drivers in the West Midlands and the East of England not to travel unless their journey is essential.
Forecasters have predicted night-time sub-zero temperatures in all four UK nations until at least Friday, with snow sweeping the nation in the coming days.
Met Office spokesperson Nicola Maxey said the minus 15.4C temperature recorded on Tuesday night meant it was the coldest in March since 2010.
Ms Maxey said an "Arctic maritime air" drifting over the UK from the north is causing the widespread snowfall and it could generate "blizzard conditions" on Thursday.
"We're going to see a cold night again tonight, especially in Scotland," she said.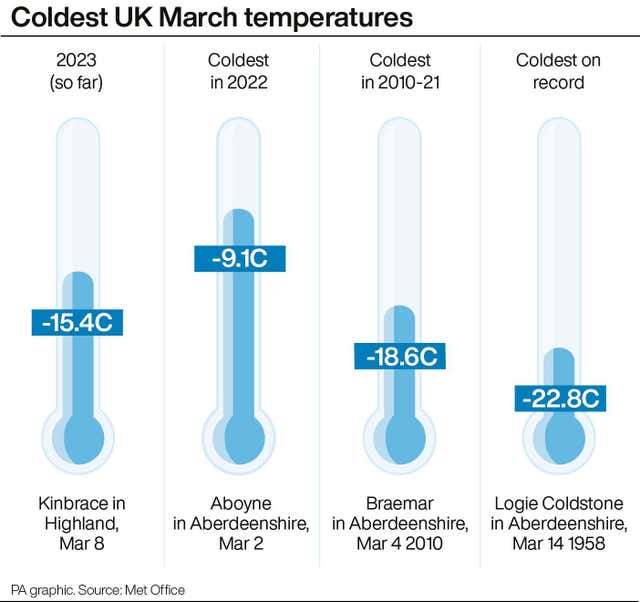 "There's also some strong winds around tomorrow, so that has the potential to lead to some blizzard conditions and drifting of lying snow."
Ms Maxey said average snow levels of 2-5cm are expected across much of the UK tomorrow, including in major northern cities like Manchester, Liverpool and Newcastle.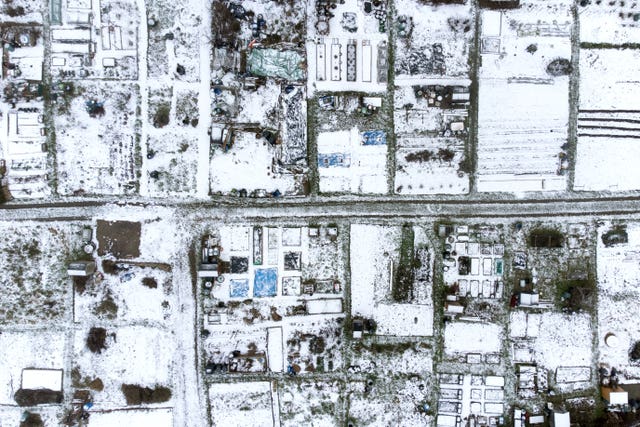 Temperatures could plummet to minus 3C in London on Wednesday night, and minus 5C in Edinburgh.
The lowest predicted temperature of minus 12C is expected to be felt in Aviemore in the Highlands.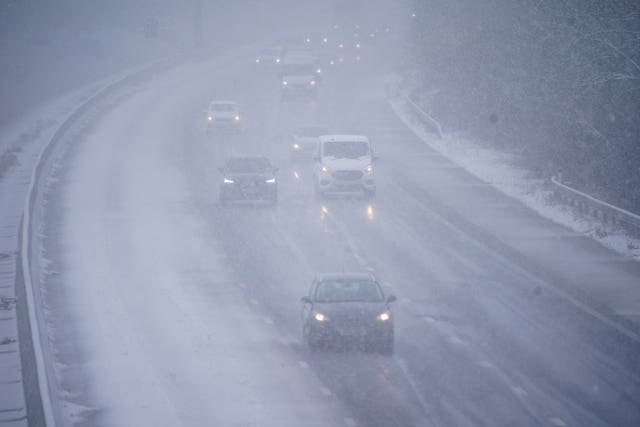 "March is a transition month from winter into spring," she said.
"Statistically, you're more likely to see snow in March than in December."
The UK Health Security Agency (UKHSA) has placed all regions of England under a level 3 cold weather alert – lasting until midnight on Thursday.
Agostinho Sousa, a consultant at UKHSA, said the cold weather could have a "serious impact" on people's health, particularly the elderly, while Age UK has urged people to check in with their older neighbours and relatives.
The Met Office has also issued several yellow weather warnings for snow and ice which may lead to injuries from slips and falls and cause travel disruption.
A spokesperson for the airport said "additional staff are on site to assist with the adverse weather response" and passengers have been advised to check with their airline prior to arriving at the airport.
The airport reopened at 10.45am but said there is "ongoing flight disruption".
The weather warning means driving conditions will be treacherous, especially for larger vehicles and those not equipped with four-wheel drive between 3pm and midnight in the West Midlands and the East of England.
HGV drivers have been asked to consider avoiding parts of the road network with steeper than normal inclines, where their vehicle could become jack-knifed or stranded, such as the M40 at junctions 4-5 and the A49 in Shropshire.
National Highways executive director of operations, Duncan Smith, said: "We are well prepared and our gritters have been out in full force since Friday and will continue to treat the roads.
"We are asking drivers to plan ahead, check the forecast and allow more time for their journeys."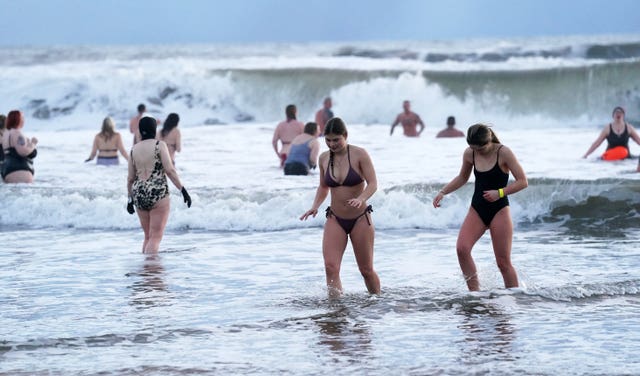 Network Rail is advising passengers to check their journeys in advance due to the Met Office warnings, but a spokesperson said there has been "no significant weather-related disruption" on the lines so far.
The snow and ice warnings for Wednesday cover northern Scotland until 10am on Thursday, along with central and southern areas of England and Wales from midnight until 7am on Thursday.
A third warning for snow and ice covers north-east England and south-east Scotland from 5pm on Wednesday to 7am on Thursday.
In most places the snowfall will continue until Friday, with a yellow warning for snow covering all of the UK north of Birmingham spanning from 7am on Thursday until 2pm on Friday.