People in the north of England and Scotland have woken up to snow as a cold snap begins to hit the UK.
More than 10cm of snow fell in parts of northern Scotland on Monday and 20cm of snow could fall later in the week as a cold snap brings snow, ice, wind and rain.
Temperatures dipped to minus 7.6C at Altnaharra in the Scottish Highlands on Monday night and the small hamlet was covered in 12cm of snow, more than anywhere else in the UK.
Snow has also settled across Northumberland and North Yorkshire with some spots experiencing 2-3cm of cover.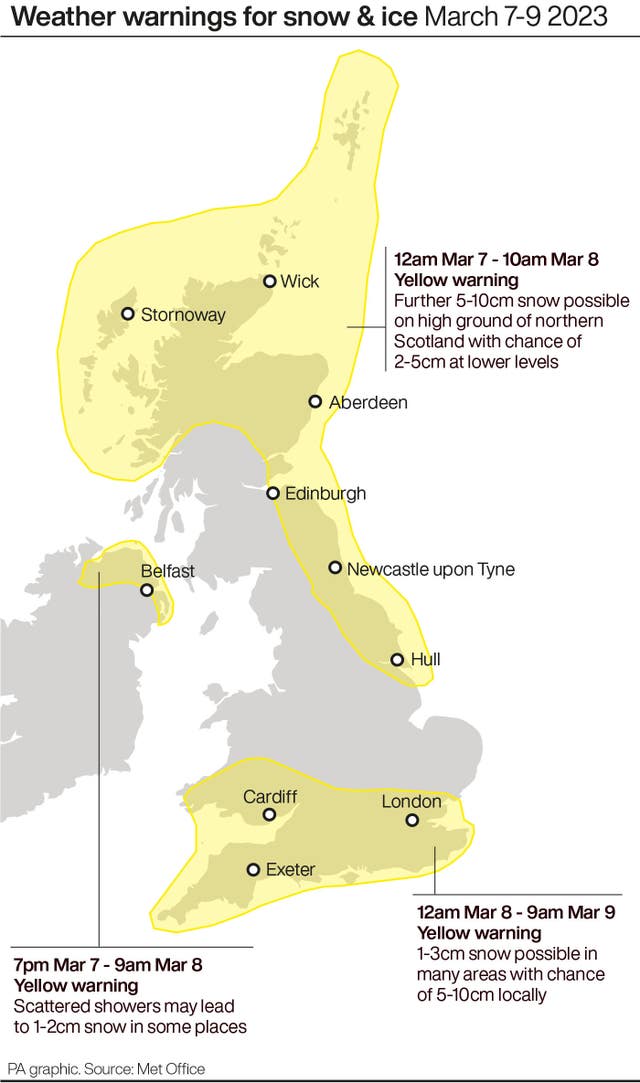 People in southern England and South Wales can expect to wake up to snow on Wednesday but it is unclear whether it will settle, the Met Office has said.
Snow is more likely to settle when it moves across much of northern England, Northern Ireland and much of Scotland on Thursday.
Met Office meteorologist Alex Burkill said people should "expect to wake up to snow" on Wednesday if they live in the South.
He said: "I think over higher grounds such as Exmoor, the Chilterns and the Cotswolds there will be a fair amount of snow.
"Elsewhere it is going to be quite difficult, especially after today's wet weather, to say how much snow will settle."
He added snow which is expected to fall in the north of England, southern Scotland and Northern Ireland on Thursday and Friday is likely to be "much more impactful".
A yellow weather warning for snow and ice is in place in much of northern and eastern Scotland and north-east England until 10am on Wednesday.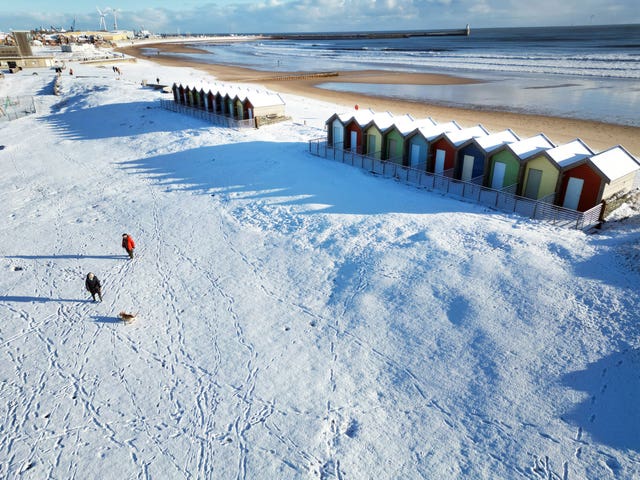 Northern England, North Wales, most of Scotland and Northern Ireland will be covered by a yellow warning for snow between 3am on Thursday and 6pm on Friday.
Mr Burkill warned people to travel in snowy conditions only if essential and to bring a blanket in case they get stuck overnight.
He said: "Through the worst of the weather, keep up to date with warnings, be prepared your journey may take longer than normal and you may end up stranded in your car.
"If there is significant snow take water and maybe a blanket just in case, that's if you absolutely need to travel.
"Treat the weather sensibly and be aware it could be dangerous."
The UK Health Security Agency has issued a level-three cold weather alert for the whole of England which is likely to be reviewed in the coming days.
The agency's head of extreme events and health protection Dr Agostinho Sousa said people should check on vulnerable relatives and told pensioners and anyone with an underlying health condition to heat their home to at least 18C.