The King and Queen Consort were met by shouts and boos from protesters with a yellow "not my King" banner as they visited Colchester to celebrate its city status.
As Charles and Camilla got out of a car, a protester said through a megaphone: "Answer your critics Charles.
"Come over and talk to your critics."
The King waved to gathered crowds before going through a gate into Colchester Castle's grounds, but did not appear to acknowledge the protesters who were stood on the far side of the road behind a police presence.
Piers Corbyn, brother of former Labour leader Jeremy Corbyn, was part of the protests and later held a banner objecting to what he claimed was Charles's support of the World Economic Forum.
Charles and Camilla travelled there on Tuesday and, after entering the castle's grounds, were met by a guard of honour and schoolchildren waving Union flags.
One schoolgirl handed the King a drawing of him, with the words "best King" written above the image.
Inside the castle Charles met local organisations which represent the city's heritage and communities, was shown a historic vase, and an artefact trolley by youngsters.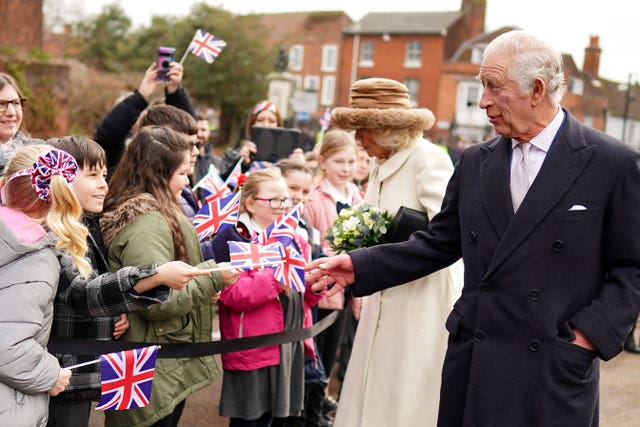 He said that he was pleased that the Letters Patent which officially recognise Colchester as a city have been placed in the chapel of the castle, "especially as this is the very room where the mayoress and I had our wedding just 10 days ago – in this very room, in this very suit".
"This will always certainly be a very special place for us," said Mr Young.
Outside the castle, Charles revealed the name of Colchester Zoo's newest addition, baby white rhino Dara, by pulling a cord to draw back material which had covered the name on an easel.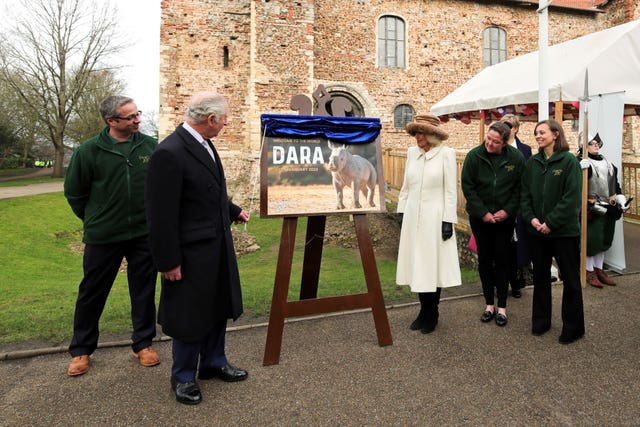 The King told zoo staff: "I do hope it grows into a substantial animal."
He then departed by car as a band played God Save The King.
Andy Moore, conservation education manager at Colchester Zoo, said the name Dara means beautiful one in Swahili.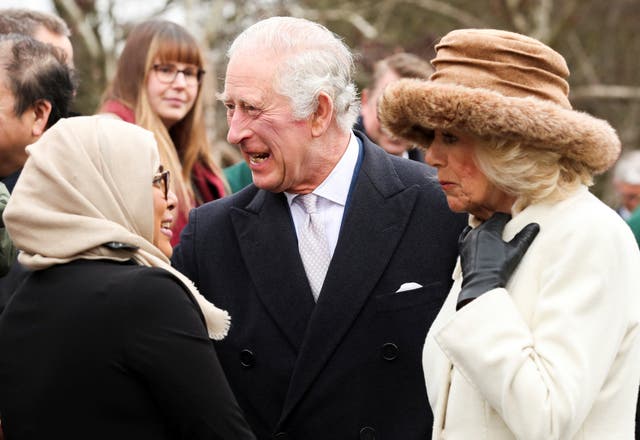 "And then the town crier obviously then – probably people in Wivenhoe and further away could hear.
"It was really great."
Later, Camilla was presented with a membership card for Essex libraries during a tour of the Colchester branch with the King, as she celebrated the Essex Year of Reading with broadcaster and children's author Dermot O'Leary and screenwriter Frank Cottrell-Boyce.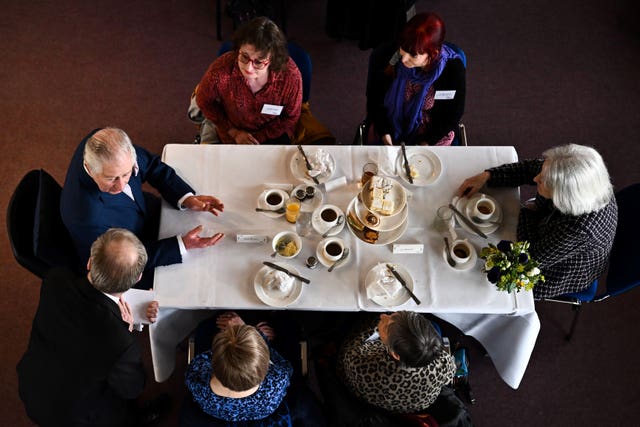 She enjoyed a reading from Alice In Wonderland by actors from the local Mercury Theatre in costume as Alice, the Mad Hatter and the March Hare.
Meanwhile, Charles went upstairs, ahead of his wife, to chat to volunteers and clients of Age UK enjoying afternoon tea but he left the debate about whether it was jam or cream first on scones to others.
Volunteer Atique Akhtar, who has weekly chats with an elderly person as part of Age UK's Silver Line project, said: "He was very diplomatic and didn't take sides, he just chaired the debate."
As the couple left the protesters, who numbered around 20, booed but they were equalled by spectators chanting "God save the King".